Packing Service, Inc. (PSI) is professional moving services company that opened for business over ten years ago in 2003. PSI set out on a mission to inform all its customers of moving scams and to become the most ethical and professional moving service provider nationwide. PSI is a proud member of the Better Business Bureau rated A+ since 2007. Packing Service, Inc. is the only moving service company that provides free information on our company website (packingserviceinc.com) regarding moving scams and moving fraud. PSI provides information on how to identify moving scams and how to avoid them.

Many unethical moving companies commit moving fraud every day. This unethical behavior is something we at PSI will never stand for. This is why we do not provide estimates and only guaranteed flat rate quotes for the entire job. Remember if a moving service company cannot provide you a flat quote then you are in the wrong place. In the moving service industry estimates are numbers that will always change and never in favor of the customer. So when you are looking for a professional moving services company make sure you always ask for a flat quote and never accept an estimate as the price you will wind up paying, you will only set yourself up for disappointment.
There are numerous ways that unethical companies pull off moving scams every day and that is why Packing Service, Inc. has an entire webpage dedicated to informing all our customers and potential customers of what moving fraud is and how exactly to identify the signs that a company intends to commit it. At PSI we truly care and pride ourselves on being honorable, reliable and always professional. Our customer's happiness with our services is more important than money. At PSI we believe in treating others as we ourselves wish to be treated and that means with honesty and integrity. These true American values are something we feel very strongly about and we are 100% committed to our customers and providing only the best in moving services nationwide.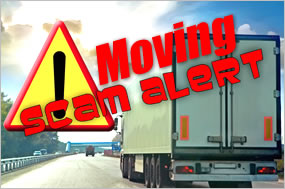 Remember moving scams and moving fraud will usually start with a low ball estimates that will most likely double and in extreme cases even triple upon the job's completion. So if you hear estimate keep looking for a company that provides a flat rate for the entire service. Chance favors the prepared mind and at PSI we are prepared for anything and we want our public to have the necessary information to make the most informed decision for their moving service requirements. So visit packingserviceinc.com today to better inform yourself regarding moving scams and the unethical companies who perpetrate them.