Packing Service, Inc. (PSI) is a professional shrink wrap palletizing and shipping services company. PSI opened its doors in 2003 and since then has maintained a 97% customer satisfaction rate. We are proud members of the Better Business Bureau rated A+ since 2007. PSI does not provide estimates that will always change; we provide only guaranteed flat rate quotes for the entire job. Our team of seasoned professionals have no less than one year of experience providing shrink wrap palletizing and shipping services nationwide. Our multi faceted services make PSI your one stop shop destination for all packing and unpacking, loading and unloading, crating, shrink wrap palletizing and shipping services. At PSI we ask all the right questions up front so there will be no hidden costs, no extra charges and no misunderstandings whatsoever. PSI's customers much like our proud
company name mean everything to us and we go above and beyond to make sure you are happy with the services you pay for. At PSI, we truly care and it shows. For any size job PSI can pack and ship your items in the safest and most efficient way possible. Take a look on our company website at our customer reviews and the pictures of each service we provide. You can view before, during and after each service we offer. This way you can see the level of professionalism that goes into each and every service we provide from beginning to end.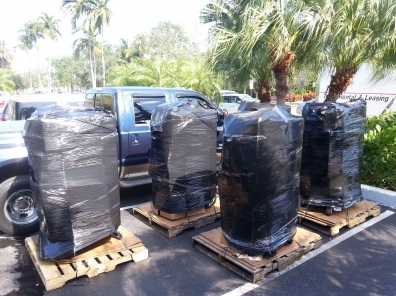 When you need shrink wrap palletizing of boxes, furniture and any other items come to the professionals at PSI and we will get the job done right. We will pack and ship any item you require paying strict attention to detail. Our freight forwarders are trained professionals who make sure your order is safe and secure in transit. For any pack and ship job, PSI is the company who is both reliable and honest from start to finish. Our white glove service will leave you speechless and well satisfied. You will see that PSI is one moving services company that truly cares for its customers. Whether you have an apartment, house, office or just some industrial equipment to pack and ship; the professionals at PSI will get it done right the first time and in a fraction of the time it would take those other guys. PSI's packing and shipping services are 100% professional and you will see the level of commitment and genuine care we display when performing all of our services. Remember you do not want an estimate; you want a flat rate quote that will not change! Call or email us today for your very own personalized flat rate quote.
(888) 722-5774 | info@packingserviceinc.com