When you are searching for a professional moving and Shipping Company to protect and transport your valuables from one place to another you want to do your research and make sure your item(s) are in the best possible hands. Make sure the company you select has been in business for at least 10 years and is in good standing with the Better Business Bureau. Read their customer reviews and see what others have to say about their experience with the particular moving company. Never accept an "estimate" and always ask for a guaranteed flat rate quote!
An "estimate by definition is a number that will always change and not to the benefit of the customer. Some unethical companies will give you a low ball estimate merely to book your job and then go ahead and double and even triple the original estimate price upon completion of the job. This unethical foreman will most likely tell you that there was more work to be done than originally thought charging you for things that may never have even been discussed like long carries, steps, repacking of boxes that they felt you improperly packed, extra packing materials and countless other excuses to help them raise your bill!
Packing Service, Inc. is one of the only professional moving and shipping companies that provides free information on Moving Company scams right on our packing company website at www.PackingServiceInc.com where you can view our listing with the Better Business Bureau, read customer reviews, view pictures of each service we offer and learn how to avoid becoming a victim of moving company scams.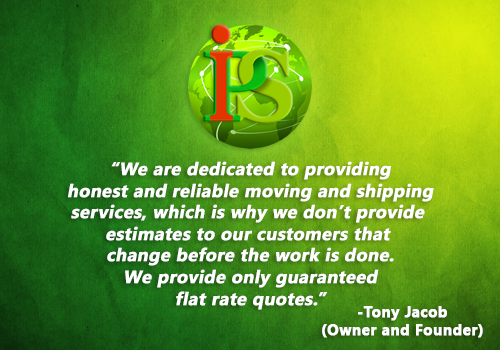 Regardless if you choose to use our white glove services or not, Packing Service, Inc. is here to answer any questions you might have and make sure you are informed as to what professional moving company practices are so you can avoid unethical practices by those who will aim to take advantage of inexperienced customers.
At Packing Service, Inc. our professional moving and shipping services are always provided at one guaranteed flat rate quote! We collect all the information up front so we can provide you with one flat rate for your service. This way you have it in black and white from the word go and there will be no hidden fees, no extra costs and no misunderstandings whatsoever!
Packing Service, Inc. can be reached at (888) 722-5774 and you may also email us to info@packingserviceinc.com and we will respond promptly with a guaranteed flat rate quote for any packing, loading, palletizing, crating or Shipping Services you might require! Packing Service, Inc. truly is your one stop shop for all moving and shipping services nationwide. We will professionally pack up and ship any size load or item(s) anywhere in the world you require. Give us a call or email us today and see for yourself what honesty, reliability and professionalism can add to your moving experience!