Packing Service, Inc provides professional Shrink Wrap Palletizing Services Nationwide. Each and every one of our palletizers must have experience providing shrink wrapping and palletizing services for at least one year before they can work with our company. We are professionals and we will only work with other professionals who are serious about delivering only the best in shrink wrapping and palletizing services nationwide. Regardless if you require us to palletize boxes, palletize machinery or palletize furniture; PSI's team of palletizing professionals can handle any job and any size item in a fraction of the time it will take those other guys. We only use quality wooden pallets built strong and purposeful for either domestic or international Shipping. As with all our services, our shrink wrapping and palletizing will always be provided at one guaranteed flat rate quote. We will never provide you an estimate that will change, we provide only flat rate quotes for each and every service we offer!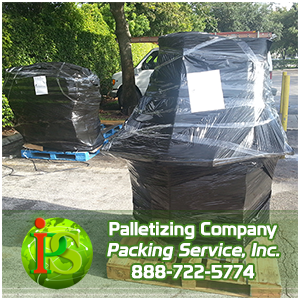 A pallet, often referred to as a "skid" is a flat-wooden transporting structure that carries possessions to be lifted by a forklift, pallet jack, front loader or other jacking device.
Shrink wrap palletizing services entails our professional palletizing crew or palletizers placing your items on quality wooden pallets, wrapping the items, strapping them down to the pallet and shrink wrapping them directly to the pallet preparing them for shipping. When requesting shrink wrap palletizing services, always inform the company providing you the services whether the items will be shipped domestic or international as international shipments require heat treated wood and this will prevent you from wasting valuable time and money. Remember you do not want an estimate for your shrink wrapping and Palletizing Services; you want a guaranteed flat rate quote!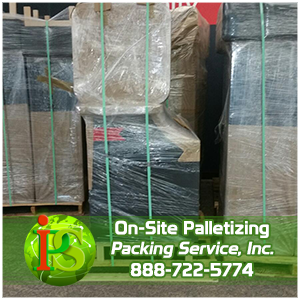 Remember Packing Service, Inc whenever you require professional palletizers to palletize boxes, palletize furniture or palletize machinery. Our shrink wrap palletizing services are second to none and always performed by experienced professionals at one guaranteed flat rate quote. PSI is the professional shrink wrapping and palletizing company that can handle any size job and ship your items both internationally and domestic. All our pallet services are provided with quality wood pallets made specific for either domestic or International Shipping and all the materials we use are top quality as we are professionals and you deserve nothing less than the best for your hard earned money.