If you have over sized machinery, delicate equipment, or fragile artwork and need professional crating services to ship these items domestically or internationally than we've got you covered!
Packing Service, Inc. offers professional crating services on-site nationwide. If you have expensive items of any size and shape that demand the highest level of protection, especially when shipping long distance or internationally, than Packing Service, Inc. has the professional services and expertise to ensure your items are protected every step of the way.
With Packing Service, Inc's expertise, equipment, and professional Packers and Loaders, your company can pursue the work it specializes in while we prepare your items for shipment. You can rest assured that your Packing and Crating needs are being handled in the most efficient and professional manner.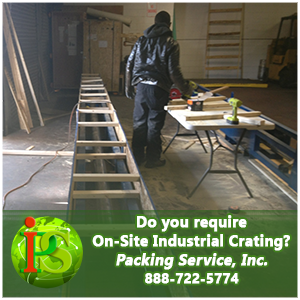 We're committed to providing our business clients with unsurpassed on-site Packing and Crating services. At Packing Service, Inc. our #1 priority is to make our customers happy and through our state of the art full service Custom Crating solutions, we strive to exceed customer expectations by delivering expertise, quality, speed, and service for unique Crating and Shipping needs.
Whether you require domestic or international crating, Packing Service, Inc. has the necessary materials for the job. If you know your items will eventually ship internationally than always make sure you inform those doing the crating of this fact. Whenever shipping crates internationally the wood used must be heat treated or you will wind up costing yourself more time, money and unnecessary aggravation. Safe handling and secure packaging methods are always important to the overall shipping process.
Packing Service, Inc. provides nationwide packing and shipping services and is your ones top shop for all professional crating, palletizing, packing, loading and Shipping Services nationwide. We will pack up and ship any size item(s) or load anywhere in the world you require.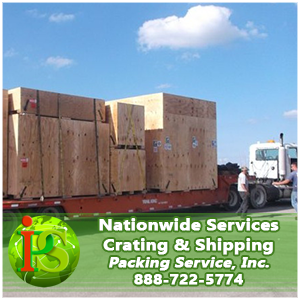 Since opening for business in 2003, Packing Service, Inc. has an impressive 97% customer satisfaction rate and is a proud member of the Better Business Bureau 8 years in a row. We are committed to our customer and providing the best packing and crating services nationwide. No item is too big or too small for the professionals at Packing Service, Inc. Our teams of workers have no less than one year experience providing services and always use the best quality materials for the job.
At Packing Service, Inc. we pride ourselves on honesty, reliability and professionalism. We will never provide low ball estimates that change; we provide only guaranteed flat rate quotes in black and white with no hidden fees, no extra charges and no misunderstandings. If you need specialized crating for your products, be it machinery, equipment, fine art, or antiques, we can help.