Do you need Custom Crates built for heavy duty machinery or industrial equipment?
Here at Packing Service, Inc. we provide professional custom wooden crating services for businesses, homes, and offices. Whether you need crates built for over sized machinery, heavy duty equipment, delicate artwork, antique furniture, or anything else – we have the professional custom crating services to handle any job you might require and in a fraction of the time it will take other companies.
Our Custom Wooden Crating Services are the best way to protect your items during international or domestic shipping. When you have industrial machinery, antique furniture, fine art, delicate equipment, or any other valuables you want to protect during transit – Packing Service, Inc. has got you covered! Our on-site industrial packing and crating services are always performed at your location, so there's no need to bring your items to us!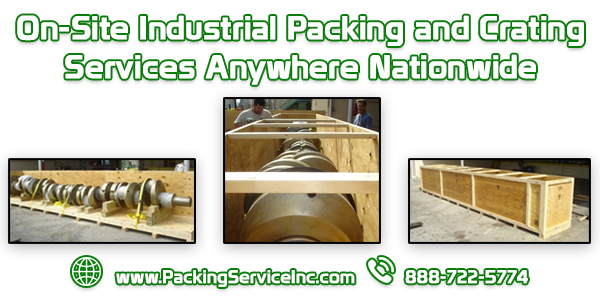 Our company strives to provide our customers with peace of mind
in knowing that professionals are handling their items. Our nationwide team is comprised of experts that have no less then one year of experience in the moving industry, so rest assured that your items are in good hands. Let us handle the heavy lifting and allow us to make your relocation process as stress free as possible.
We are dedicated to providing our customers with professional services
they will want to use again and again. We will never provide you with an "estimate" that is subject to change, we only provide guaranteed flat rate quotes for any of our nationwide moving and shipping services. Getting a flat rate quote from us is a simple process. All you have to do, is fill out our form on our homepage ( www.PackingServiceInc.com ) and once we receive it we will respond back (through email) with a guaranteed flat rate quote within an hour. Or you can email us all the details of your request ( info@packingserviceinc.com ). We would need information on the amount of boxes, types of services needed, locations, sizes and weight of items (when you need Crating) and any pictures of your items would also be extremely helpful.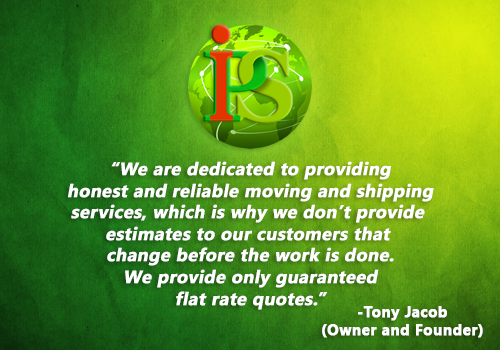 Here at Packing Service, Inc. we provide professional
moving and shipping solutions you can count on anywhere nationwide with worldwide shipping from the United States to any port in the world! To learn more about the types of services we provide please visit our website to view pictures and descriptions on all of our nationwide services.