Are you in need of professional custom Crating Services for either household or commercial items? Packing Service, Inc. is a professional crating services company making top quality crates for over ten years. We are proud members of the Better Business Bureau rated A+ since 2007. At Packing Service, Inc. regardless if you require crating services such as: dog crates, Wood Shipping Crates, crate and freight, or crating for any item, we have the experience and the knowhow to build one of a kind custom wooden shipping crates and boxes designed specifically for your valuables. Our wooden shipping crates are strong and durable and will protect any item you may need to crate and freight regardless of size and weight. You can rest assured knowing your belongings are safe and secure. Packing Service, Inc. provides only professional employees and uses top-quality materials for every job, every time. We provide one of a kind custom wooden shipping crates of all shapes and sizes. Our crates are built strong to protect your items and ensure the security of your valuables. For any crate and freight job Packing Service, Inc. has you covered!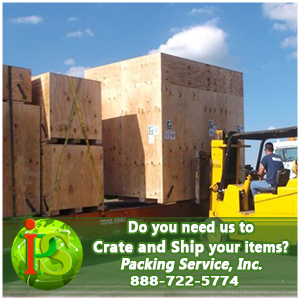 Our professional custom crating services are performed onsite (at your location) and tailor made to the exact dimensions of your item(s). Custom Wooden Crates are the best form of protection when shipping expensive items long distances or internationally. Packing Service, Inc. also provides both domestic and international shipping services should you require it. Packing Service, Inc. has over ten years of experience providing crating services and custom built crates for furniture, machinery, boxes as well as any item you might require. Whether you need crate and freight services or simply need crates for shipping small or large items, we have the professional staff and quality materials to get the job done quickly and efficiently. If you need dog crates or crates for any animal, Packing Service, Inc. will provide you with custom built wood shipping crates tailor made for your specific needs.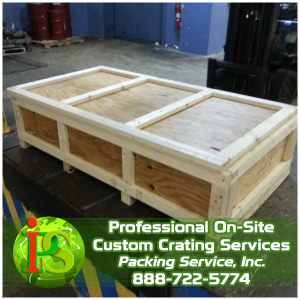 Before choosing a crating services company do your research and make sure you are dealing with professionals with a reputation for providing only quality custom built crates, or Crate and Freight services. Remember Packing Service, Inc. does not provide estimates that are subject to change and we do not charge for time. We provide services by GUARANTEED FLAT RATE QUOTES ONLY! So call or email us today for a flat rate quote.