Our company can provide you with on-site Crating and Shipping Services for your machinery, industrial equipment, antiques, and fine art. Packing Service, Inc is your nationwide one stop shop for all Moving and Shipping Solutions. Hire us to provide you with professional, on-site, Custom Wooden Crating Services which provide your valuables with the highest level of protection during transit.

Custom crating services involves our professional employees arriving on-site (at your location) and building custom wooden crates specific to the measurements of your item(s). For long distance and international moves, Packing Service, Inc's Custom Crating Services are the best way to protect expensive and oversized item(s) that you need to safely ship from inside the US to anywhere in the world.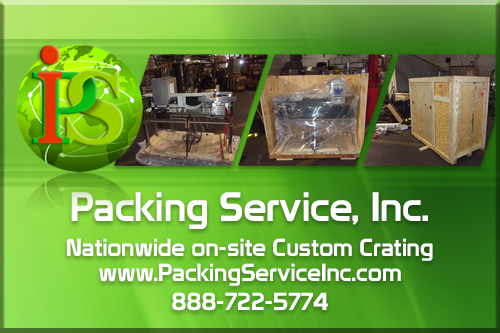 Visit our website at www.PackingServiceInc.com and read our customer reviews, view pictures of each service we provide and educate yourself on moving company scams by utilizing the free information provided. Packing Service, Inc has the most professional on-site Custom Crating services nationwide! Since opening for business in 2003, Packing Service, Inc has a 97% customer satisfaction rate and is a proud member of the Better Business Bureau 8 years in a row. Our company's number one priority is each customer's happiness with the services that we provide them. Our professional employees all have a minimum of one year experience providing service in the industry, so when you need items like antiques, fine art, industrial equipment, or machinery transported domestically or abroad, give us a call. Our professional Packers and Loaders are ready, nationwide, to Crate and Ship your valuables.