Do you have boxes, furniture, appliances or machinery that need to have packed up and you require Shrink Wrap Palletizing Services? Whether household or commercial goods; Packing Service, Inc. has the professional shrink wrap palletizing services to get the job done right. Shrink wrap palletizing helps ensure your items stay protected and as one item while in transit. It involves placing your items on strong wooden pallets, wrapping them, strapping them down and shrink wrapping them directly to the pallet preparing them for shipping.
Packing Service, Inc. can provide shrink wrap palletizing services for both domestic and International Shipping. We are a one stop shop moving and shipping company that provides packing and unpacking, loading and unloading, shrink wrap palletizing, custom wooden crating and shipping nationwide as well as shipping internationally. We never provide estimates that change; Packing Service, Inc. only provides guaranteed flat rate quotes with no hidden fees, no extra costs and no misunderstandings. We only hire professionals with a minimum of one year experience in the industry. We have been open since 2003 and have a 97% customer satisfaction rate in all that time.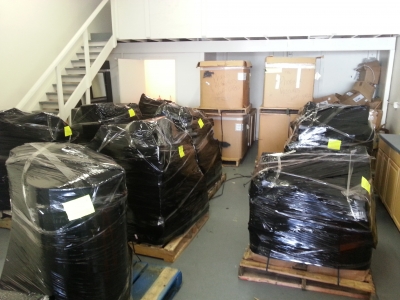 Packing Service, Inc. is also a proud member of the Better Business Bureau rated A+ 8 years straight! We treat your items as if they were our own. Visit our website at www.PackingServiceInc.com and read our customer reviews as well as view pictures of each of the services that we provide. We are also perhaps the only Moving and Shipping Company that provides free info on moving company scams right on our website. You can read exactly what to look out for and how to avoid these unethical practices. Feel free to call us at (888) 722-5774 or send us a detailed email to info@packingserviceinc.com and we will reply quickly with a guaranteed flat rate quote for any service you require.