Packing Service, Inc. is a professional pack and load company that opened in 2003 and offers the best packaging services in the business. We are proud members of the Better Business Bureau rated A+. Regardless of whether you require our professional packers for packing boxes, Wrapping Furniture, machine packing, packing and loading international containers or packing and loading pods containers and rental trucks; we can provide any and all pack and load services and always by guaranteed flat rate quotes. Packing Service, Inc. is the professional Packing Company with the best trained packers in the business. Our packing services extend from packing boxes and palletizing furniture to crating machinery and packaging any item you might require. All of our services are provided on-site and by professionals with no less than one year of experience in the industry.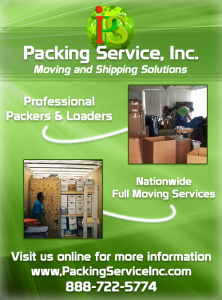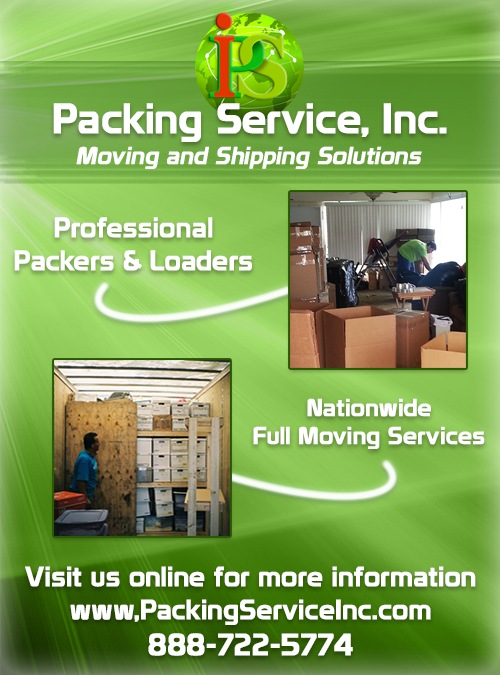 Packing Service, Inc. is your one stop shop for all packing and shipping services. In over eleven years as a packing company, Packing Service, Inc. has maintained a 97% customer satisfaction rating for providing the best packing services in the industry. Our team of pack and load professionals have extensive experience in all packaging services. Whether we are simply Packing Boxes, machine packing or packing and loading PODS containers and rental trucks, our expert packers and export packers pay strict attention to detail to ensure every customer's items receive the highest level of care and protection. At Packing Service, Inc. our customers mean everything to us. Their word of mouth advertising has been our single greatest asset since opening for business in 2003. If you have boxes for packaging, furniture in need of wrapping, international containers to be loaded or machine packing to be handled by professional craters; Packing Service, Inc. has the most Professional Packers in the business to handle any size pack and load job. We take great pride in the work we do and we will treat your items as if they were our own.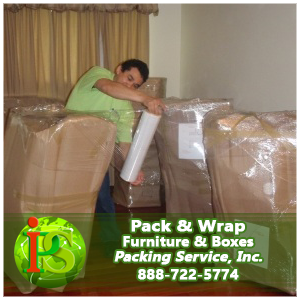 When it comes time to moving across state, across the country or even across the world; remember the professional pack and load team at Packing Service, Inc. has the experience and professionalism to give you the service that you deserve for your hard earned money. Our packing services are not only provided by guaranteed flat rate quotes but are provided by the most professional, honest and reliable people in the industry. Packing Service, Inc. is the Packing Company that brings integrity and character back to the moving services industry providing that white glove service you would expect from a professional packing company.