Are you in need of a professional palletizing company to palletize boxes, wrap furniture, pack and load items, crate machinery and ship them to anywhere in the world?
Packing Service, Inc. is the professional Packing and Palletizing company that combines both moving and shipping services nationwide. We are your one stop shop for all packing, loading and shipping services! We opened in 2003 and have since then maintained a 97% customer satisfaction rate. Packing Service, Inc. has also been a proud member of the Better Business Bureau for 8+ years. Our customer's happiness and satisfaction with our services is our number one priority.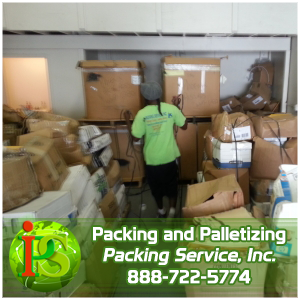 When wrapping furniture we always pay strict attention to detail covering every inch of your items with blankets and shrink wrapping them to ensure the highest level of protection while packing, loading and shipping. Our palletizing packing services consist of placing your items carefully on strong wooden pallets and wrapping them up, then strapping them securely to the pallet, we then shrink wrap them completely preparing them for shipping. Whether Packing Boxes, wrapping furniture, palletizing household/commercial goods or crating machinery; Packing Service, Inc.'s professional packing services are second to none and completed in the quickest and most efficient manner possible! We can pack and palletize a full-range of items including computer and IT equipment, files, office furniture and office decor items like artwork and sculptures, and industrial equipment. We are your nationwide one stop shop for all Moving and Shipping Services. Hire us to provide professional on-site Shrink Wrap and Palletization Services for any of your furniture, over sized machinery, and large amounts of boxes. Our team of professionals have no less then 1 year of experience providing Shrink Wrapping and Palletization services.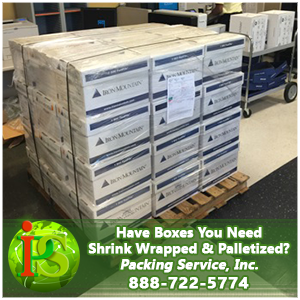 When professionally packing and Palletizing Boxes, furniture appliances or any other items you may require, we place your items on strong wooden pallets, wrap them, strap them down and shrink wrap them preparing them for either domestic or international shipping. Packing Service, Inc. is the professional Palletizing Company that provides on-site nationwide services at guaranteed flat rate quotes! You can reach us at (888) 722-5774 or you may also send a detailed email to info@packingserviceinc.com and we will respond with a guaranteed flat rate quote!