In need of shrink wrap Palletizing Services to transport boxes, furniture, appliances, machinery or other household and commercial items? Shrink wrap palletizing is a great way to keep multiple items together and as one so no individual item is lost, misplaced or damaged. Packing Service, Inc. offers the most professional shrink wrap palletizing services nationwide. Our onsite services are convenient, organized and always performed by professionals with a minimum of one year experience.
Since opening our doors in 2003, Packing Service, Inc. has a 97% customer satisfaction rate and a proven reputation for honesty, reliability and professionalism. We are proud members of the Better Business Bureau 8 years straight and we always put our customers first! Packing Service, Inc. combines both moving and shipping services making it your one stop shop for all packing and unpacking, loading and unloading, Shrink Wrap palletizing, crating and shipping services nationwide.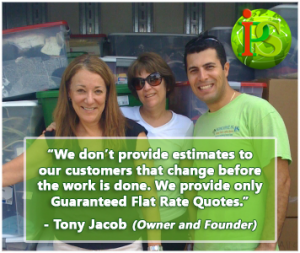 Packing Service, Inc. is also perhaps the only Moving and shipping company that provides free information regarding moving scams right on our company website www.PackingServiceInc.com where you may also view pictures of our services and read customer reviews. Packing Service, Inc. will never provide you with low ball estimates that always change; we provide only guaranteed flat rate quotes with no hidden fees, no extra charges and no misunderstandings. You can reach us at (888) 722-5774 or you may send a detailed email to info@packingserviceinc.com and we will respond with a guaranteed flat rate quote. For the best moving, shipping, packing and palletizing services nationwide, choose Packing Service, Inc. and we'll get the job done right!