Do you have a large quantity of boxes, expensive furniture or appliances that you need to have shipped nationwide or internationally? Packing Service, Inc.'s shrink wrap palletizing services are perfect to ensure the safety and security of your items while in transit. Whether using non-heat treated wood for Domestic Shipping or heat treated wood for international shipping; Packing Service, Inc. will take care of everything and ensure your items are non-stackable and shipped together as one.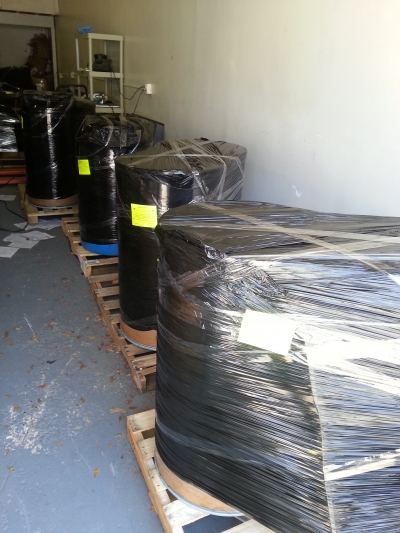 Shrink wrap palletizing services involves placing your items on strong wooden pallets; wrapping them, strapping them down and Shrink Wrapping them directly to the pallet preparing them for shipping. Whether palletizing boxes, furniture, appliances or machinery; Packing Service, Inc. will treat your valuables as if they were our own. Palletizing boxes, furniture and other items together as one keeps your valuables together and the fact they are non-stackable adds security to their protection from start to finish. By keeping them together, this ensures no items will be lost or misplaced. The shrink wrap palletizing also ensures no dust or debris will tarnish your belongings while in transit.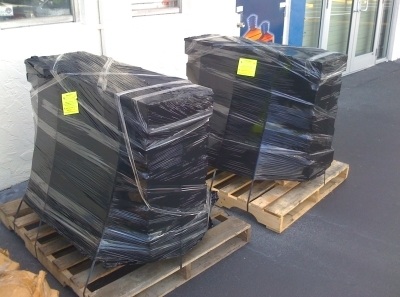 This way your items arrive in exactly the same condition in which they left. Packing Service, Inc. has been open since 2003 and in over 11 years, we have a 97% customer satisfaction rate and have been rated A+ with the Better Business Bureau rated A+ 8 years straight! We are a one stop shop for all packing, loading, custom crating and shrink wrap palletizing nationwide. We provide Shipping Services both domestically and internationally and this way you can ensure the safety of your items even further knowing only one company will handle your valuables; therefore they will be loaded and unloaded one time and not loaded and unloaded several times. This decreases the chance of loss or damage and provides a higher level of protection. Packing Service, Inc. is perhaps the only Company that combines moving and shipping services under one company umbrella. Remember Packing Service, Inc. for your next move and anytime you require palletizing boxes, furniture or machinery nationwide. We can pack up and ship any size load and provide the highest level of protection from beginning to end. You can reach us at (888) 722-5774 or send a detailed email to info@packingserviceinc.com and we will respond promptly with a guaranteed flat rate quote!