Are you in need of professional Shrink Wrap Palletizing services for household or commercial items? Packing Service, Inc provides on-site shrink wrapping services nationwide. We have been providing shipping pallets and palletizing services for over a decade. Each wood pallet is custom built and designed to support the weight and size of your items. Your items are always moved in the most safe way possible, by fork lift or pallet jack. They are strapped down to the wood pallet and completely covered in shrink wrapping to shield the items from debris and damage. Packing Service, Inc does not provide estimates as they are always subject to change. We believe you deserve to know what you will be paying from day one which is why all of our shrink wrapping services are provided at a guaranteed flat rate quote. Our Palletizing Services are second to none and our professional staff takes the utmost care when operating the pallet jack so your items are always handled with care and precision. Whether you are shipping pallets domestically or internationally, Packing Service, Inc has got you covered!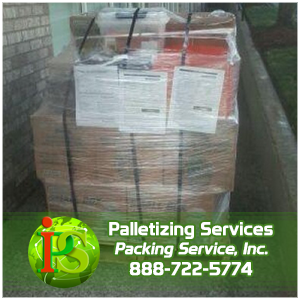 Packing Service, Inc is unique in that we are perhaps the only packing company to combine both moving and shipping services under one roof making us a one stop shop for all packing and unpacking, loading and unloading, custom crating, shrink wrap palletizing and shipping services nationwide. Our onsite services are the most professional in the industry and since we come to you, you never have to worry about lugging large and heavy items to our location. Our company delivers the very best in white glove service making us the best choice for any and all moving and shipping services coast to coast. We can professionally Palletize and Ship items of any size and deliver them to any port in the world.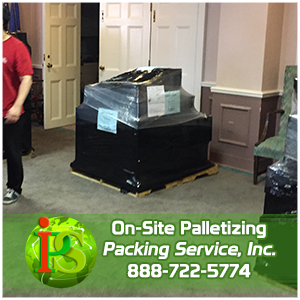 Packing Service, Inc has been open since 2003 and only works with professional employees who have no less than one year experience in the industry. In almost 12 years we have an impressive 97% customer satisfaction rate and we are proud members of the Better Business Bureau 8 years in a row. At Packing Service, Inc our number 1 priority is the safety and security of your items as well as your happiness with the services we provide for you. We pride ourselves on honesty, reliability and professionalism in the field and doing the best possible job every time.