When you need items like furniture, over sized machinery, or large amounts of boxes Packed, Palletized and Shipped, the professionals of Packing Service, Inc have got you covered! Our experts will provide on-site Palletizing and Shipping Services.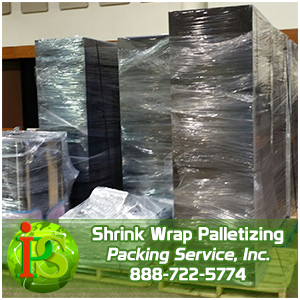 When wrapping furniture we always pay strict attention to detail covering every inch of your items with blankets and shrink wrapping them to ensure the highest level of protection while packing, loading and shipping. Our palletizing services consist of placing your items carefully on strong wooden pallets and wrapping them up, then strapping them securely to the pallet, we then shrink wrap them completely preparing them for shipping.
Packing Service, Inc. has the most professional palletizing services coast to coast. Our Company. opened in 2003 and in almost 12 years in business we have maintained a 97% customer astisfaction rating. Packing Service, Inc. is also a proud member of the Better Business Bureau for 8+ years in a row!
You can visit our website at www.PackingServiceInc.com and read the free information we provide on moving company scams and exactly what to look out for so you can avoid becoming a victim of these unethical practices. You can also read our customer reviews and view our picture galleries for each service we provide.
Our company combines both the Moving and Shipping industry. We're your one stop shop for all packing, loading, crating and Palletizing Services nationwide. Our employees all have at least one year of experience and will professionally palletize, crate, pack, load and ship your valuables in a fraction of the time it will take most of our competitors. At Packing Service, Inc. we treat your items as if they were our own and their safety and security are our top priority.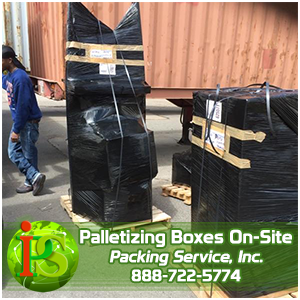 We will never provide you with a low ball estimate that changes; we provide our valued customers with guaranteed flat rate quotes in black and white with no hidden fees, no extra charges and no misunderstandings. We are professionals providing white glove services everywhere nationwide.
Our crew of professionals are trained to treat your belongings with the utmost of care. So take the next step – contact Packing Service, Inc. today to learn more about our Palletizing Company and the services we provide.