Packing Service, Inc. a professional Shrink Wrap Palletizing services company that provides on-site moving and shipping services nationwide. Packing Service, Inc uniquely combines both moving and shipping services under one company umbrella making it a one stop shop for all packing, loading, shrink wrap palletizing, custom crating and shipping services nationwide. Every employee we send has a minimum of one year experience and uses only the best packing materials to ensure your items are safe and secure. Packing Service, Inc. has a 97% customer satisfaction rate in over 11 years in business and is a proud member of the Better Business Bureau for 8 years straight.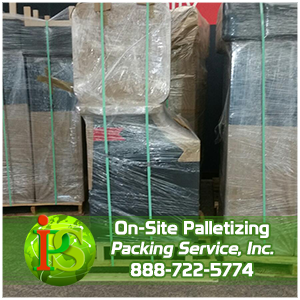 Palletizing Services involve placing your items on strong wooden pallets, wrapping them, strapping them down and then shrink wrapping them directly to the pallet preparing them for shipping either domestically or internationally. Shrink wrap palletizing is also an efficient, safe and affordable way to ship your goods domestically and internationally. Your goods will always be moved by pallet jack and not human hands ensuring a higher level of safety and care. They are wrapped, secured and sealed from outside damages ensuring they arrive in the same condition in which they left.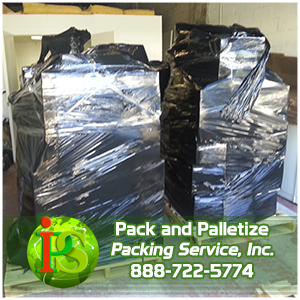 Regardless if you require only one service or multiple services, Packing Service, Inc. can handle any size job in a fraction of the time it will take those other guys. Our Palletizing Company will also never provide low ball estimates that change; we provide only guaranteed flat rate quotes in black and white with no hidden costs, no extra charges and no misunderstandings whatsoever. You can reach Packing Service, Inc. at (888) 722-5774 or you may send a detailed email to info@packingserviceinc.com and we will respond with a guaranteed flat rate quote!