Do you need to transport household or commercial goods locally, domestically, or internationally? Packing Service, Inc. is the company that uniquely combines both the Moving and Shipping industry under one name and we offer the best Palletizing Services in the business. Palletizing your items involves placing them on strong wooden pallets, strapping them down, and then shrink wrapping them directly to the pallet preparing them for domestic or international shipping.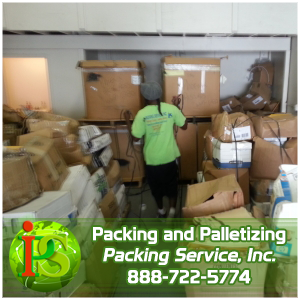 Our company has been providing Moving and Shipping Solutions to both, residential and commercial clients for the past 11 years. Our on-site nationwide services are always performed by professionals with at least one year of experience in our industry. At Packing Service, Inc. we use only the highest quality materials for every service we provide. Our #1 priority is to make our customers happy with the professional services we provide. Packing Service, Inc. is a Shrink Wrap Palletizing Company that provides all moving and shipping services anywhere nationwide. We are your one stop shop for any and all packing and unpacking, loading and unloading, shrink wrap palletizing, custom wooden crating and shipping services that you could require.
Our company is a proud member of the Better Business Bureau 8 years straight and our palletizing services are excellent for keeping your items together, protecting them and making sure nothing is stacked on them to prevent unnecessary damage or loss.
Shrink Wrap Palletizing is also an efficient, safe and affordable way to ship your goods domestically or internationally. Your goods will always be moved by pallet jack and not by hand ensuring a higher level of safety and care. They are wrapped, secured and sealed from outside damages ensuring they arrive in the same condition in which they were picked up.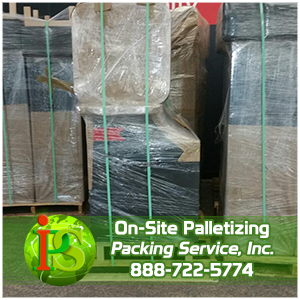 Here at Packing Service, Inc. we take pride in providing our clients with the right combination of services that will make their relocation process as stress free as possible. Our number one priority is to make our customers happy. Our teams of professional Packers and Movers are ready to provide you with any services you could require anywhere nationwide with one Guaranteed Flat Rate Quote.