Packing Services, Inc. is a professional Shrink Wrap Palletizing services provider. Shrink wrap palletizing services are comprised of placing your items on strong wooden pallets, wrapping them, strapping them down, shrink wrapping them and preparing them for either domestic or International Shipping. Our professional employees use only the best packing materials and always focus on providing the most optimal customer service on each service we provide. Since 2003, when Packing Services, Inc. opened its doors, we have been providing only the most professional on-site palletizing and shrink wrapping services nationwide. We are also proud members of the Better Business Bureau rated A+ since 2007. Our customers, much like our company reputation, mean everything to us.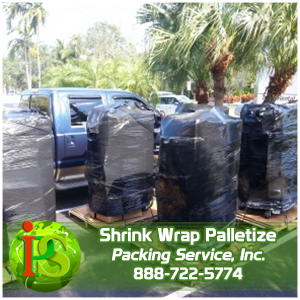 Whether you have boxes, furniture, appliances, machinery or any other item(s), Packing Service, Inc. has the professional shrink wrap palletizing services to pack up and protect your items preparing them for local, long distance or international shipping. We provide Palletizing Services for boxes, furniture and machinery. We place your items on a wood pallet and then wrap, strap and shrink wrap them directly to the pallet so they are protected and secure for transport. All pallets are moved by fork lift and pallet jack to ensure their safety. Packing Services, Inc. provides only professional workers who have the necessary training to handle any palletizing service job you may need.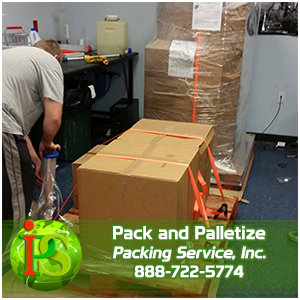 Each wooden pallet can support 700-1000 pounds and can be moved by pallet jack with ease ensuring your items will be carefully placed and prepared for shipping no matter their size or weight. Packing Services, Inc. has been Shipping pallets and providing Shrink Wrap Palletizing Services for over ten years using only top quality materials. Regardless if we are shrink wrapping boxes, furniture or machinery every effort is taken to safeguard your items. We do not provide estimates as they are always subject to change, only guaranteed flat rate quotes are given so you know the exact price for our service.
At Packing Service, Inc. our number 1 priority is the safety and security of your items as well as your happiness with the services we provide for you. We pride ourselves on honesty, reliability and professionalism in the field and doing the best possible job every time.