Do you have furniture, machinery, or boxes you need Shrink Wrap Palletizing services for? Packing Service, Inc. is the company that provides nationwide moving and shipping solutions with guaranteed flat rate quotes for commercial and residential clients nationwide.
When Shipping items anywhere locally, domestically, and internationally the most cost effective way to transport your items is, a majority of the time, palletizing them. Pallets are flat structures utilized in cargo container ships for supporting goods or containers. Items are placed atop these structures, the process being referred to as palletizing. This process helps in easy handling and storage of goods on ships.
The cargo placed on pallet is secured with straps and wrapped in shrink wrap in order to stabilize and prevent any unwanted movement. There are various aspects to Shipping pallets. Since they form an important cog in the shipping industry, several norms and measures have been established by the ISO (International Organization for Standardization), and here at Packing Service, Inc. we make sure everything we do is up to, or surpassing, the standard.
So when you need to transport heavy duty machinery, antique furniture, or large amounts of boxes hire us to provide you with our Palletizing Services. We'll send our professionals to your location (anywhere nationwide) to put your items on a pallet, strap them down, shrink wrap them, and transport them locally, domestically, and internationally.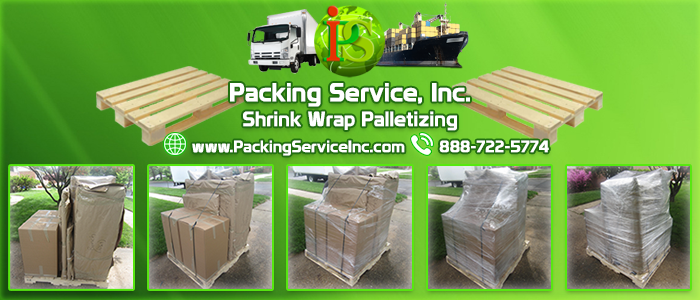 Our company doesn't provide "estimates" to our customers. "Estimates" are by definition, a value that will change. Packing Service, Inc. believes in providing honest and reliable services with straight forward results which is why we give our clients only guaranteed flat rate quotes for any service they request. From start to finish, our customers know what they will pay without any misunderstandings, surprises, or hassles. Only reliable and professional services.
Packing Service, Inc. has been in business since 2003 and in over 11 years has maintained a 97% customer satisfaction rate and is rated A+ with the Better Business Bureau for over 8 years straight! Packing Service, Inc. provides packing and unpacking, loading and unloading, shrink wrap palletizing and custom wooden crating services nationwide. We combine both moving and shipping services under one company umbrella making us your one stop shop for all packing and shipping services coast to coast. Regardless of whether you require us for palletizing boxes, wrapping furniture, crating heavy machinery or shipping goods locally, domestically, or internationally; Packing Service, Inc. has the professional staff and experience to get the job done right.