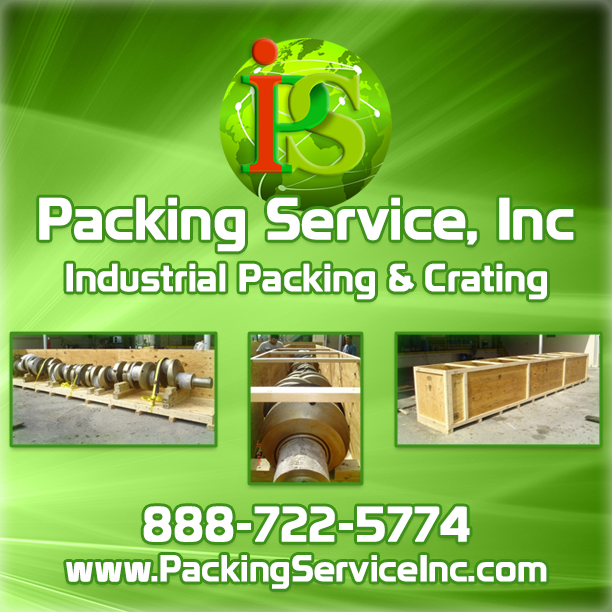 A month ago our office in Florida received a call from an extremely distraught man with a huge problem in his hands. He had hired a crating company to build him a shipping crate for an important industrial machinery part. The crating and shipping companies he chose, however, were dishonest and lazy, which ended up in the 25,000 pound item (yes, you read that correctly) in breaking through the cheaply-built crate in the middle of the JFK Airport in New York, en-route to its destination. This story is more common than you might think. With the advent of ecommerce and online retail, many businesses have found themselves needing a reliable and convenient shipping solution to their problems. Many shipping companies have popped up all over the market, but they're usually inexperienced, pricey, and simply do not have their customer's satisfaction as their main priority, i.e. they're low quality.
This is exactly what happened to this customer. He went with a crating company that was going to give him a cheap estimate, does a shoddy job of building a crate, then have an anonymous shipping company take his valuable item and transport it across the United States in the cheapest way possible. This mistake could have ruined his item. All these factors together ended up in the person having his crate break apart in the airport, leaving him stranded with no other option than to call actual professionals to do the job again.  Calling the professionals at Packing Service, Inc.  is precisely what he did, and he was glad he did. Why would he call the crating or shipping company that just caused this calamity to him?
As soon as we heard what had happened to this individual, we knew that he had mistakenly dealt with the wrong companies. Many times, in order to entice customers to choose their services, freight industry companies will give their potential customers an artificially low estimate. This estimate sounds great over the phone, but what people forget is that estimates WILL ALWAYS CHANGE. Once the customer has agreed to the services and is locked in with a contract, the additional charges and hidden fees will begin to pile up. So now there are two problems: the crating or shipping company has lied about the price of the services, and will undoubtedly avoid or shirk their duty to build a safe and secure custom crate for shipping a heavy item.
You can imagine the mental state of this individual as he called our office!  Fortunately, Packing Service, Inc.  has dealt with similar situations before. Our slogan is "We solve our customer's problems" so that's precisely what we set out to do. First thing we did was asses where exactly the load was to know where we had to send our professional crating team. It turns out the item was lying in the middle of the tarmac at JFK airport. This situation was awful not just for the client, but it was a hazard for the entire airport. This airport is a major airport with daily flights to all six continents. With the location now known, we formulated a plan of attack to get this item crated up and shipped across the U.S. as fast as possible.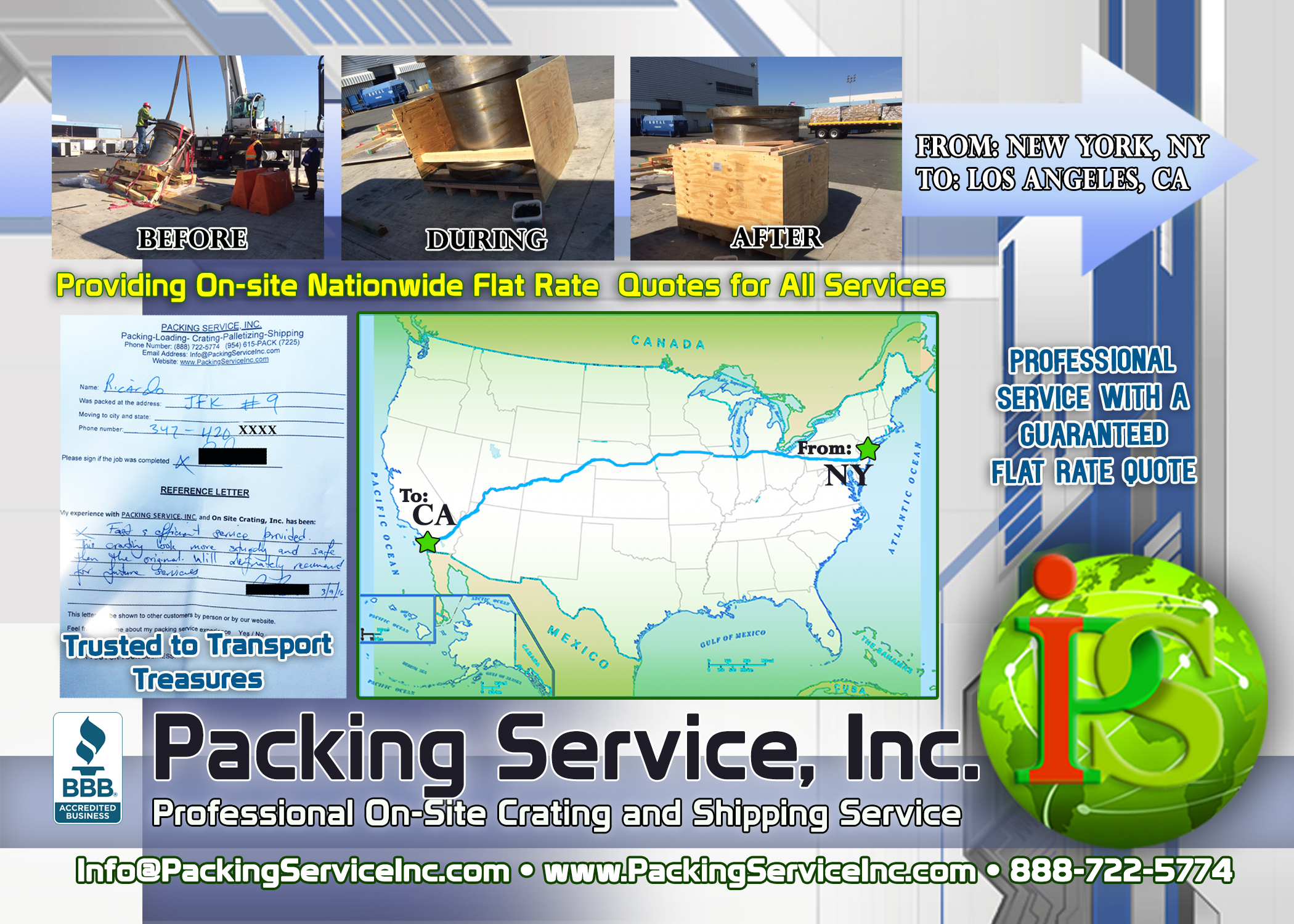 Our crating team arrived to the location and cordoned off the area in order to safely work around the crate. We had to use a heavy duty crane to lift the heavy factory machine out of its old broken crate while we built a new one with a reinforced metal bottom. In the previous picture, you can see our crane operator moving the item and then placing it in the new crate. This new crate was perfectly able to carry the heavy metal alloy piece safely to its new destination. This client was glad he was able to get our services in order to complete his move. Nonetheless, it's important to go with the right company from the very start.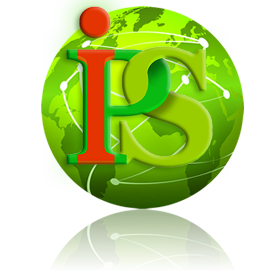 Unfortunately for our clients, this type of event happens all too often. Businesses need shipping options and services that are as good as they are. Homes and residences need a company that isn't going to inflate the price of their move or relocation. Packing Service, Inc.'s mission is to help our customer's problems. We do not give our customers low-ball estimates, or charge any hidden fees or additional charges for any of our services. We are unique in the industry for combining all our services which range from packing and loading rental trucks and storage containers, to crating and palletizing large quantities of items and oversized objects. Our services are all on-site, and we can serve our customers in every state in the U.S. Call 888-722-5774 or email us at info@packingserviceinc.com