It's back to school season! The kids feel the pressure of the school year approaching and we parents are scrambling about budgeting supplies, clothes, materials to last until winter break, and our favorite chore: Packing! Make your move easier this summer, sit back, and let us do the work for you. It's what we do!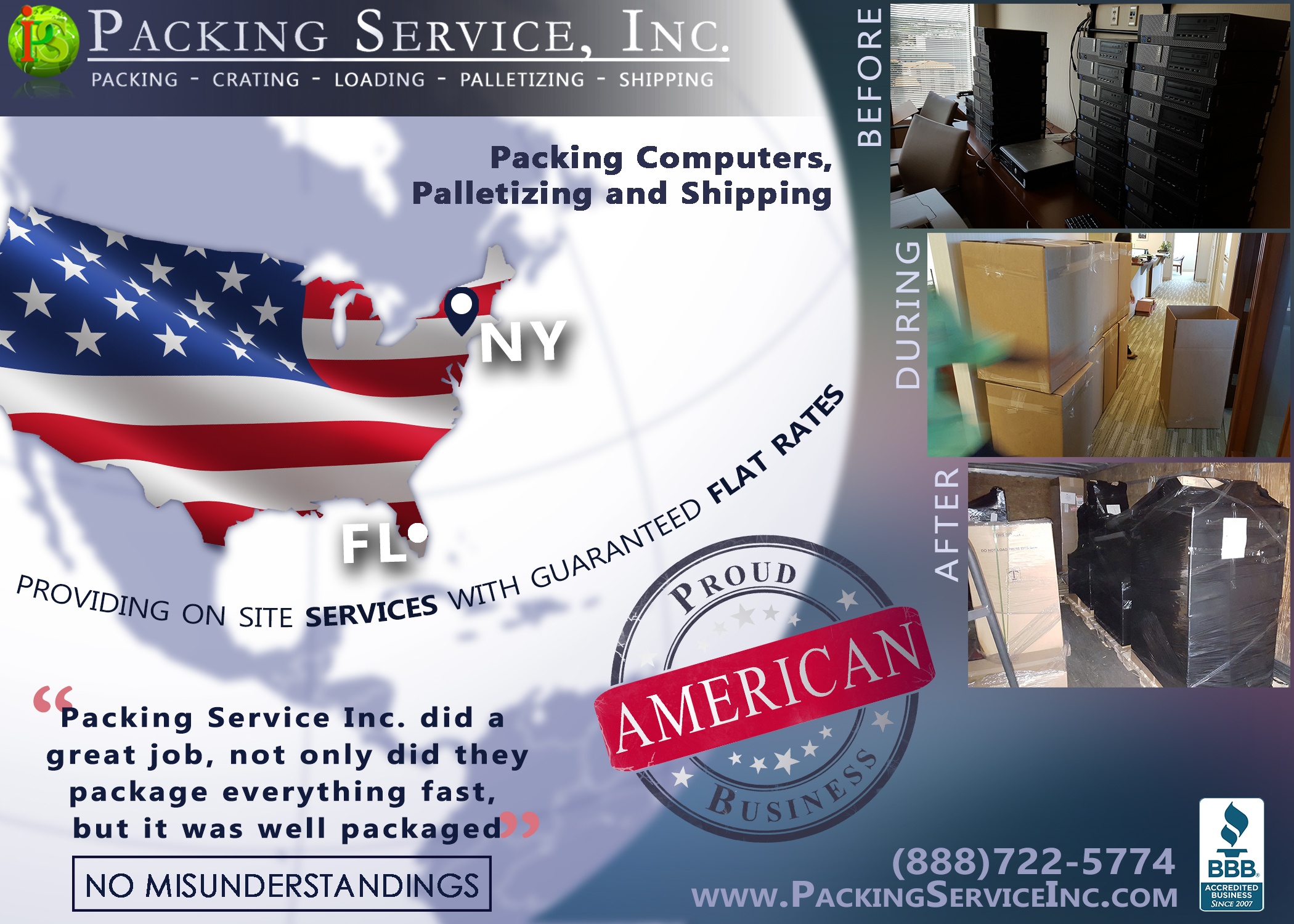 Packing Service, Inc. is your one stop shop for all packing and moving services under one roof. In over eleven years as a packing company, Packing Service, Inc. has a 97% customer satisfaction rate providing the best Packing Services in the industry. Our team of pack and load professionals have extensive experience in all package services. Whether we are simply packing boxes, machine packing or packing and loading PODS containers and rental trucks, our export packers are the best in the business at safeguarding your belongings as well as loading them into international containers in the most safe, effective and efficient way possible. We will wrap, pad, bubble wrap and shrink wrap every last item necessary to make your move as stress free as possible. We will not only protect your valuables but use every cubic foot of space in the most efficient way possible. Rest assured that every last item will arrive in exactly the same condition as it left in. We truly care!
When it comes time to move across the state, across the country or even around the world; remember the professional Pack and Load team at Packing Service, Inc. has the experience and professionalism to give you the service that you deserve for your hard-earned money. Our packing services are not only provided by guaranteed flat rate quotes but are provided by the most professional, honest and reliable people in the industry. Packing Service, Inc. is the packing company that brings integrity and professionalism back to the moving services industry by providing that white-glove service you would expect from a professional packing company.
Whether you require our professional packers for packing boxes, wrapping furniture, machine packing, packing and loading International shipping containers or packing and loading PODS Containers and rental trucks; we can provide any and all Pack and Load Services with guaranteed flat rate quotes.

FAQS
Which methods of transport do you guys use to move boxes and furniture across the country?
Are not not limited. We can transport by truck, PODs container, or even Palletize for easier shipping.
What if I don't have a container or rental truck to transport my items?
We will provide you with these options! No problem
What if I don't want any container or rental truck?! Can you guys load all my boxes into me and my wife's car?
Don't want to bother with a container or rental truck? Perhaps your vehicle fits the belongings you need packed and loaded. No problem! Yes, we would be happy to do it!

If I chose to do my own packing, would you quote me only for loading and unloading the items?
Yes, we quote specifically for what your need is. No extra fees or misunderstandings!
Can you unload items into dorm rooms at colleges and universities?

Absolutely!
Can you ship my daughters' car to her a few states away without me being there?
Yes, we provide car shipping services often.