Shipping and Receiving are among the fundamental processes of most business, and in the healthcare industry there is no exception. Within the healthcare industry, shipping and receiving is referred to as inbound and outbound freighting – or transporting in bulk. From machinery to private documentation, Healthcare organizations and professionals entrust into shipping services to transport their valued merchandise domestically and internationally. So why choose US?
There is a sense of urgency that develops when transporting health care items, as there are millions of unexpected surgeries and procedures daily all in need of expensive, large equipment and products. Packing Service, Inc (PSI). has been requested for multiple of these specialized cases ensuring reliable and convenient Shipping Services worldwide. Our team at Packing Service, Inc. understands shipping for healthcare organizations can be a nightmare, with the myriad of rules, paperwork, and choices between inbound and outbound freighters. Reduce the hassle, call us as PSI, as we take care of inbound and outbound freighting, provide tracking for your merchandise, and do not have ANY Limits!
What many healthcare entities don't realize is that they're missing out on easy savings by working with separate or multiple service providers. There is more work involved, higher risk for lost and damaged items, additional tracking required, and the attempts made to "save a buck" winds up costing many more. Packing Service, Inc. combines inbound and outbound freighting through our Professional Custom Crating Services. PSI builds custom wooden boxes (wood crates) on-site (at your location) for any item that you might require. We can build furniture crates, machine crates, crates for boxes or a crate for industrial equipment regardless of size or weight. Once the client has established the size and weight of the given items, crates will be tailored to meet set specifications. Crates will then be loaded and shipped Domestically or Internationally shipped to the established location.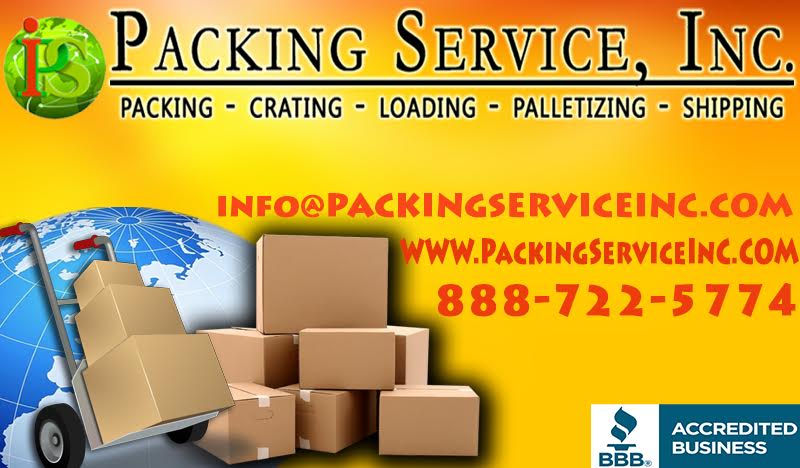 Packing Service, Inc. was established in 2003 and is recognized by the Better Business Bureau for an overall 97% customer satisfaction rate, we pride ourselves in being the best in crating services at one guaranteed nationwide flat rate quote.  Whether we are preparing custom wooden boxes for industrial equipment, machinery or furniture; PSI will accomplish this task in a fraction of the time it will take those other guys. The level of professionalism and respect we demonstrate to our customers will leave you beyond satisfied.  When you require the best crating services in the business; call or email Packing Service, Inc. for a flat rate quote that is guaranteed! (888) 722-5774 | info@packingserviceinc.com
FAQS
Do you guys pack and export private documents?
Yes, we have provided services for businesses, such as law firms, who require specific and sensitive transport of private documents.
Is a crating similar to freighting as you state you crate boxes?
Freighting and Crating are the same, transporting cargo in bulk. We distinguish between the wood best to protect your items depending where they are shipping (International or Domestic) then build a crate custom for your merchandise. Our services are provided on site as well, therefore, our professionals will come to your location. No hassle!