Shipping your vehicle is just as easy as mailing an envelope with our Team of Expert Professionals at Packing Service, Inc.! As a Full Service Moving and Shipping Company, our team will arrive at your item(s) location to pack or unpack, load or unload, wrap, pallet, and/or crate your item(s) for Nationwide Moving or International Shipping. In the cases of International Car Transport, our staff requires the Year, Make, and Model of each vehicle and a photo submission with your service request to our team of specialists:
| info@packingserviceinc.com |
Sending your Inventory to Our Specialists will allow them to generate your Flat Rate Shipping Quote accordingly. The price issued will not change nor be charged until completion of service. Domestic and International cargo shipping is expensive and time consuming, Packing Service, Inc. eases this transition offering only a Flat Rate Shipping Quote and limitless service options. Most of the time, the delivery or shipping company in inquiry will charge large sums of money for automobile shipping. We understand you are looking for that one reliable shipping company that will treat your belonging like gold, and Packing Service, Inc. is your one stop solution with competitive pricing.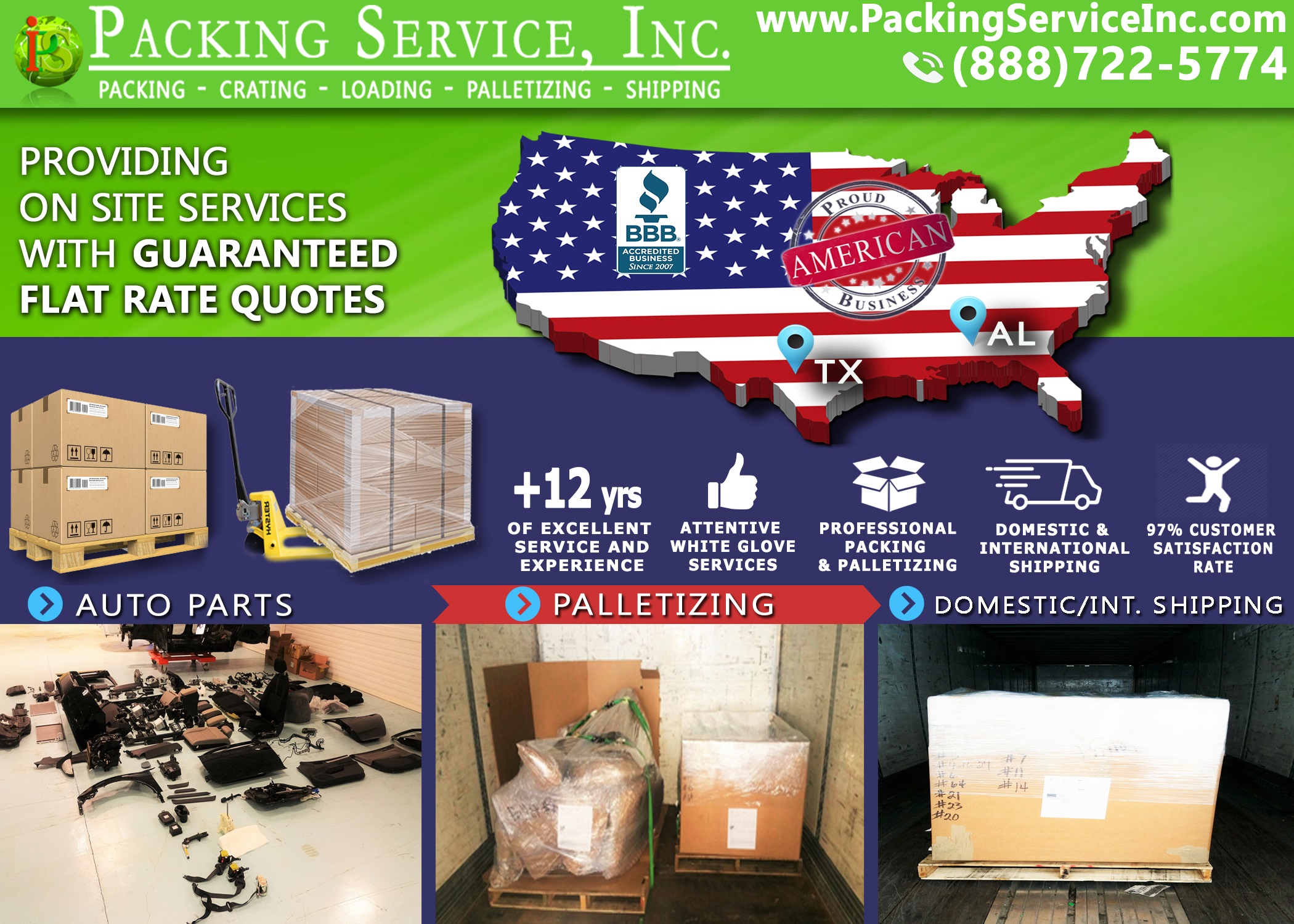 In the case you only require specifically auto parts, machinery, or engines to be wrapped and shipped – Packing Service, Inc. will shrink wrap and palletize or build a custom crate around those items and ship them anywhere International.
Transporting your car, van, or truck is a lot more to deal with on one person's shoulders – Entrust in a reliable shipping company who CARES. PSI Professionals will load your vehicle into a Domestic or International container and deliver anywhere Nationwide. Our services are always performed by experienced and well-trained professionals who have the necessary know-how to get the job done right but, more importantly, in the safest and most secure way possible.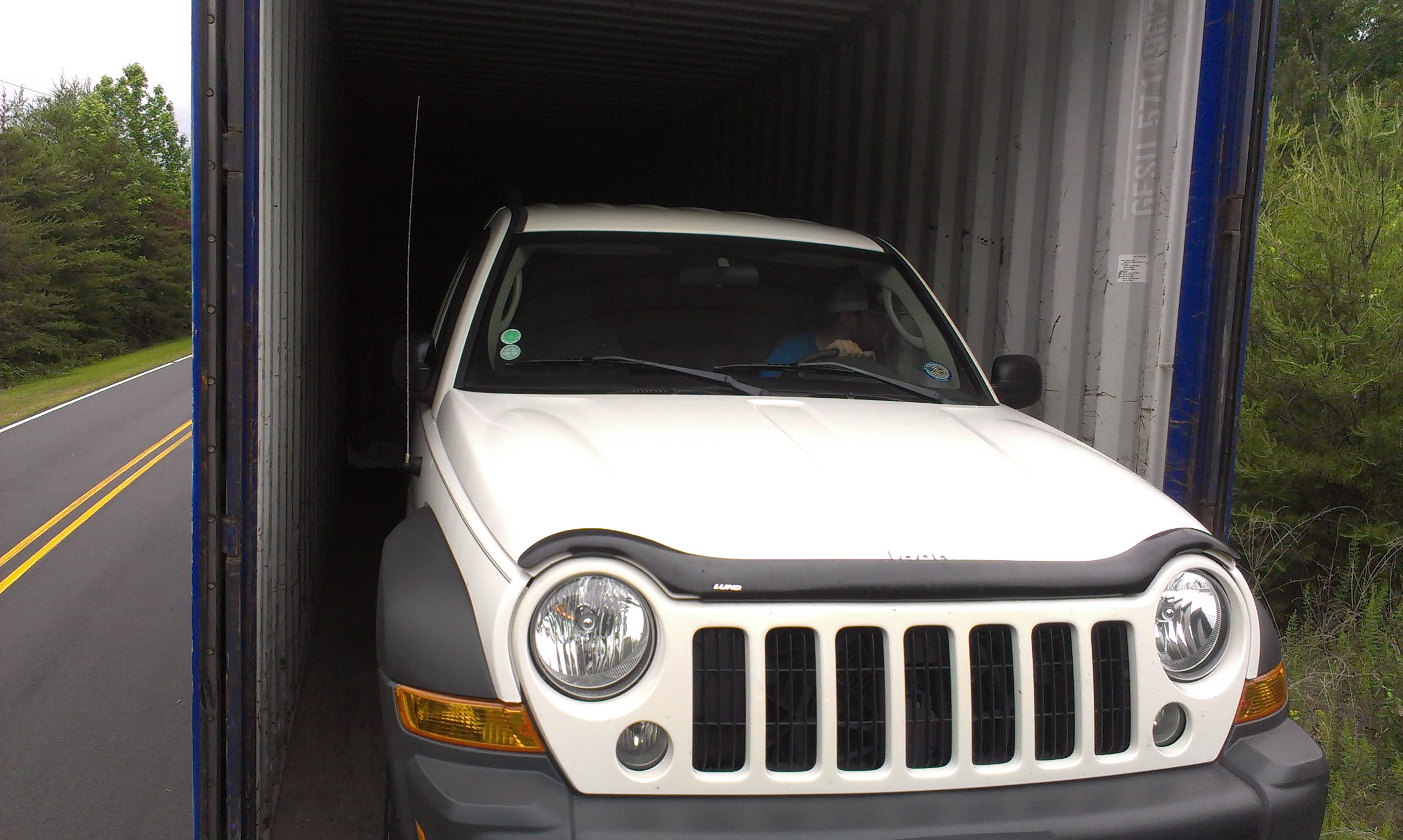 How Can You Prepare Your Car for International Auto Transport?
Prior to shipping your car you would want to properly prepare it for transport.
Follow these steps to ensure your vehicle is properly prepared for the journey:
Vehicle Shipping Checklist
Empty your gas tank in order to prevent any safety hazards-leaving a quarter-tank to allow for transport to the final destination if applicable upon delivery.

Apply a full coat of wax to the exterior of the car to serve as a bug and debris barrier

Check all fluids in your car. If your vehicle is leaking fluids you should let the transporter know so that the fluids don't drip onto another car or cause a fire or safety hazard. Coolant and oil are very slippery substances and could cause harm if not properly noted by you and your carrier.

Check your battery charge and tire pressure-you don't want to wait until you hit land on the other side to find out these things are lacking.

Take high-quality photographs of your vehicle before transport and photograph damage (if there is any) before you sign off on the shipment at delivery.

Remove all ornaments (roof racks, spoilers, antenna, etc) from the exterior of the car.

Remove things like toll tags and EZ passes from windshields to prevent possible damage.

Remove all personal belongings but leave behind a spare tire and jack, just in case!
Call or email Packing Service, Inc. today to ship your car anywhere in the world and receive your own personalized guaranteed flat rate shipping quote!
With our company there are no hidden costs, no extra charges, no misunderstandings and no time charges. Just Professionals with Flat Rate Quotes, call for a flat rate quote today: 888-722-5774.
FAQS
Could I pack my car with items if the car will be loaded into a Pods Container?
Yes, if they are secure. Verify these items by sending detailed information to: info@packingserviceinc.com
Do You have someone who can come out and look at my items before I request for a quote?
It is both time saving and resourceful to develop your inventory list prior to requesting for a quote. This allows you to receive an accurate FLAT RATE quicker and prevents misleading information being sent to you by other moving and shipping companies who only offer estimates (prices that will change).
Save
Save
Save
Save