Whether you're shipping dozens of containers to a port across the globe or just need to ship a truckload from the US to Mexico, Packing Service, Inc. is here to help you with your international freight shipping services. For more than 10 years we've been arranging freight shipments for individuals and businesses of all sizes. Whether your freight shipping services required are LTL, truckload, intermodal, international, or something else entirely, we're here to serve you. We'll keep track of your shipment from start to finish, and we won't stop until it gets where it's going in a safe and secure manner. You'll have peace of mind, thanks to our stellar  reputation in the shipping industry and our rigorous requirements for carriers to join our network.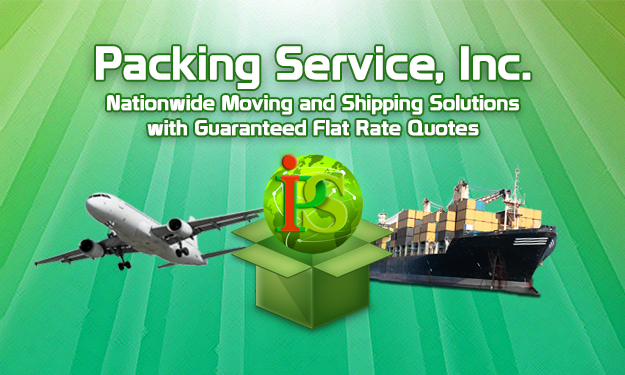 Are you purchasing new furniture, shipping machines or equipment? Let Packing Service, Inc. pickup your new items directly from the warehouse and ship them straight to your desired location. Packing Service, Inc. has affordable solutions to fit any company's shipping requirements. If your company needs boxes transported from one location to another, PSI will provide you with the easiest shipping solutions. If you need help with furniture shipping, the quality and professionalism of Packing Service, Inc.'s shipping services will leave you smiling. If you want a stress-free, competitive Flat Rate Quote for your Shipping Services Nationwide; you need to use Packing Service, Inc. for all of your packing and shipping service requirements. We're proud to be an industry leader, and you'll see our professionalism and dedication in the work we perform. We're timely, efficient and offer the best prices in the industry. We stand head and shoulders above the crowd of moving companies because our company employs only honest professionals with integrity, character and the strongest work ethic!
With our Shipping Services there are No Hidden Costs, No Extra Charges, No Misunderstandings and No Time Charges. We are professionals with Flat Rate Quotes Only, call for a flat rate quote today: 888-722-5774.