There have been countless times our team at Packing Service, Inc. has flown to the rescue for our clients in distress. The rigor of relocation is stressful and common complaints are usually found in the limitations of most moving and shipping companies. From their weight or size limits to their fluctuating estimates, who wants to deal with the uncertainty? Save yourself the head ache and call us. At Packing Service, Inc. we do not have any limits! No matter the size or weight of your cargo, If you think it, we can Ship It!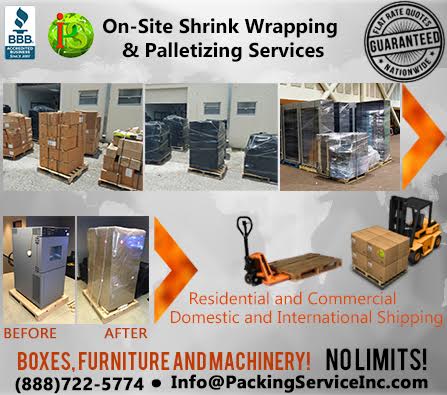 If you find yourself with a large quantity of boxes or need furniture or machinery transported, we highly recommend our
Shrink Wrap Palletizing Services. Utilizing shrink wrap and pallets is advantageous for saving time and money. Specifically, a pallet is a flat, wooden transport structure that supports goods in a stable fashion. The structure of the Pallet allows easier handling and storage, great for bulk shipping goods or shipping containers.
Our Shrink Wrapping and Palletizing Process:

*  ON SITE *
*We place the strongest and heaviest items on the bottom and go as high as we can
* We strap your items to the pallet (usually 40″x48″ or 40″x40″).
* Ensure the Shrink Wrap also grabs all sides of the pallet.
* Cover the top of your pallet with shrink-wrap to keep your cargo clean and safe.
* 2 to 4 layers of shrink wrap are applied for added support and safety.
* Your wrapped pallet load is then loaded by forklift/pallet jack into truck

Packing Service, Inc. (PSI) has been a leading professional shrink-wrapping and palletizing Company since 2003, with over 12 years experience and a 97% customer satisfaction rate. We at PSI pride ourselves in being members of the Better Business Bureau since 2007. We can handle any size job and ship your items both domestically and internationally. Our Shipping methods and all the materials we use are top quality as we are professionals and you deserve nothing less than the best for your hard-earned money.
As with all our services, our shrink-wrapping and palletizing will always be provided within our one Guaranteed flat rate quote. No Scams, No Limits, No Problem! Regardless if you must palletize boxes, palletize furniture or palletize machinery with our company, we do not provide estimates, no hidden costs, no extra charges, no misunderstandings and no time charges at all. We only provide guaranteed flat rate quotes! Call or email PSI now for yours today:
888-722-5774 | Info@PackingServiceInc.Com