Packing Service, Inc. really is the Uber of the Moving and Shipping industry! Consider how easy it is to press a button and your service provider arrives on site to transport you anywhere you need to go! Our team of professionals at Packing Service, Inc. provide the same easy concept – connecting professionals with the spare time, expertise, and transportation access with any moving or shipping service at your request!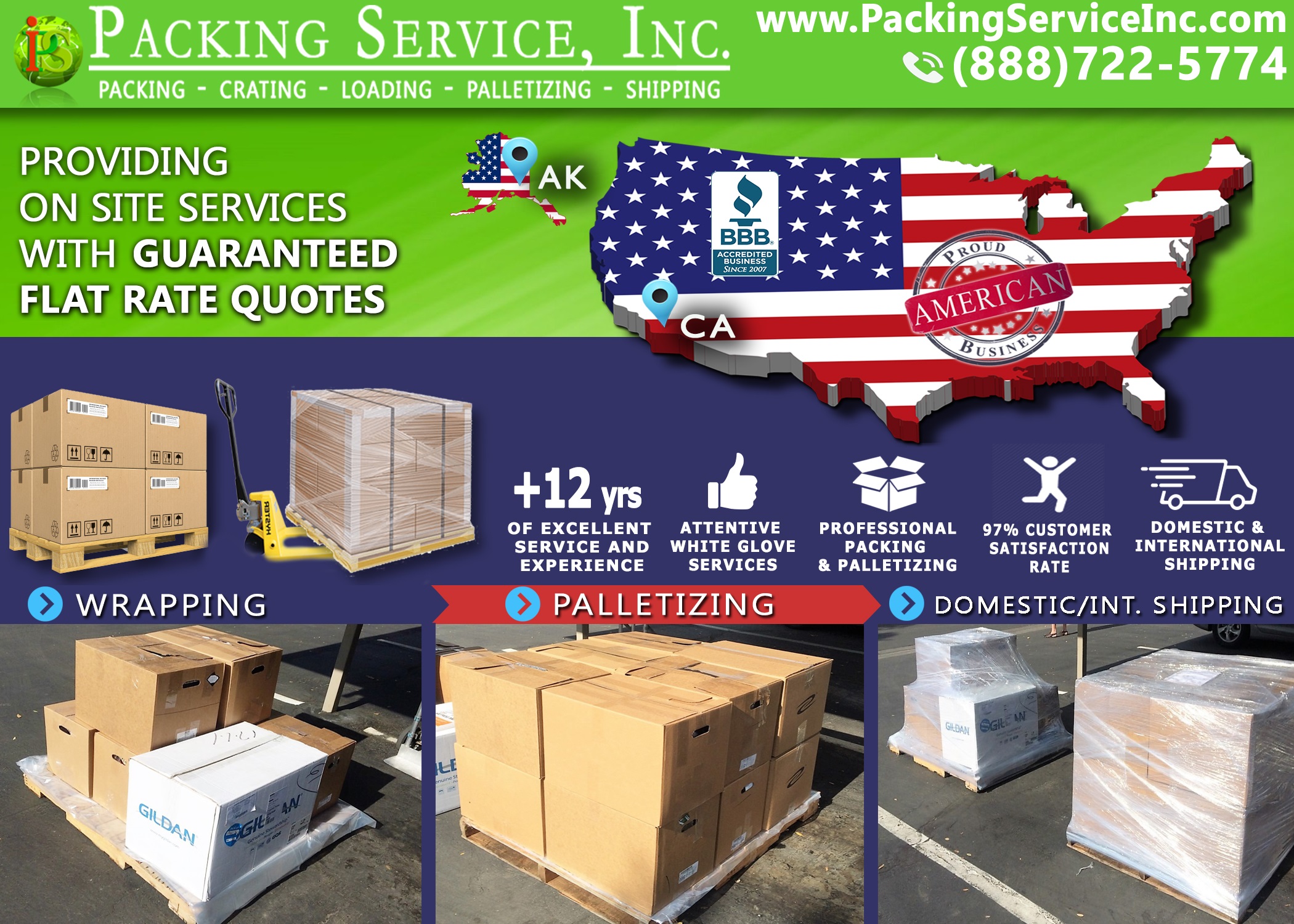 Packing Service, Inc. is the leader in moving and shipping services nationwide. We have been providing packing services, loading and unloading services for PODS containers and trucks, custom crating services, and shrink wrapping/palletizing services since 2003. Our attention to detail, reliability, efficiency and professionalism has set us apart from other companies. Thanks to our strong commitment to our clients, we have proudly achieved a 97% customer satisfaction rate and have been members of the Better Business Bureau since 2007. Packing Service, Inc. offers all our services across one company-wide umbrella, saving you time, money and stress. Unlike other shipping companies, we only offer Guaranteed Flat Rate Quotes which won't change or fluctuate.
Shipping Services are when you need to transport boxes, select pieces of furniture (small quantity), machinery or equipment palletized or in custom wooden crates from one location to any destination worldwide.

Moving Services are when you need to transport household goods in large quantities in the same truck/container from one location to any destination worldwide.
Whether you need Packing Services, Loading and Unloading Services, packing and shipping services, packing boxes or wrapping furniture, Packing Service, Inc. has you covered. We make sure to ask the right questions beforehand in order to provide our guaranteed flat rate quotes. Our professional staff will apply the proper packing method necessary to transport any and all belongings safely to meet both nationwide and worldwide needs. Our custom craters can design custom wooden crates on-site (at your location) to protect your oversized or fragile items during shipping. Custom crates can be built for any item you may require and are tailored for specific sizes and weights of your valuables.
Our mission is to meet the needs for domestic and international shipping/moving for individual or commercial industrial use. If you are shipping high-value items such as personal effects, commercial equipment or machinery, our skilled packers and craters will custom build wooden crates designed exactly for your items. Our made-to-Measure crates provide the best protection possible for all your shipping needs.