Summer time is a busy time! Maybe the kids are moving in or out of college, mom and dad are retiring and moving out the family home, or maybe you're relocating for a new career opportunity. Here at Packing Service, Inc. we strive to take the stress out of each and every moving experience providing a multitude of customized white glove Moving Services including: Packing/Unpacking, Loading/Unloading, Custom Wooden Crating, Shrink Wrap Palletizing, Shipping services and more.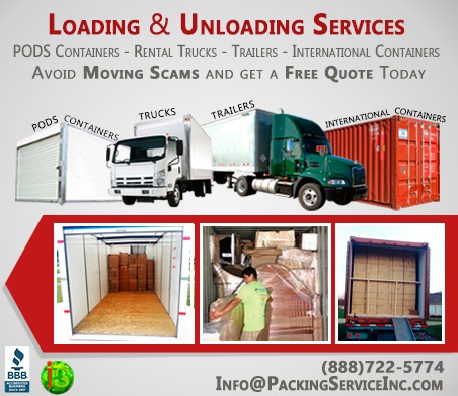 Packing Service, Inc. provides packing and moving services delivered by trained personnel with more than one year of experience in the industry. Our employees are professionals who know all about the rigors of packing and moving so your valuables are in quality hands.
Whether you need us to pack your boxes, wrap your furniture, load and unload PODS containers or Rental Trucks, Packing Service, Inc. will professionally handle all your moving and shipping needs nationwide, with safety and security, to give our clients good peace of mind and a hassle-free move.
Packing Service, Inc. prides itself as an A+ BBB (Better Business Bureau) member since 2007 retaining a decade strong 97% customer service rate. With our one stop shop, we aim to fulfill the needs of our customers, "You think it? We ship it!"
Unfortunately, not all companies take the proper measures to ensure customer service. Beware of "Jump Up" moving services with inefficient movers as they tend to spring up this season offering lowball prices and poor service. You can avoid falling victim to unethical practice by research. Here are some helpful tips to avoid Packing and Moving scammers.
Accreditation: Check BBB status, search for local addresses, find licensing information, search online commentary, request for references of previous clients, call Governments consumer hotline for company history
Estimates: Ensure to obtain all specifications regarding your estimate as most companies that specialize in Packing and Moving offer vague estimates and then, once the job is completed, the actual price is more than double the initial amount. PSI believes and offers our packing services should be backed by a flat rate quote so customers aren't blindsided by a sizeable bill.
Payments: Moving services are not to be paid for in total until job has been efficiently completed. Most companies will request small deposit and will require credit card as this avoids fraudulence.
Unmarked Vans: Take caution loading and unloading your belongings into unmarked vehicles
Insurance Policy: Companies who offer moving services should have an insurance policy
Packing Service, Inc. prides itself in being one of the only Packing Companies defending the public from moving scams and other unethical practices. We provide additional free information on our website, Check it out here: https://www.packingserviceinc.com/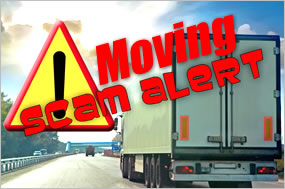 Loading and Unloading is stressful enough without having to add a moving company with shady business practices or amateur employees. Best to place your trust in a professional packing company with a proven track record.
FAQs
How is your Estimate for services acquired?
We do not provide estimates rather a Guaranteed Flat Quote. This is obtained by detailed inspection and inventory. We ask our clients to submit a detailed inventory list with pictures if necessary to assure services required. With our Shipping Services there are No Hidden Costs, No Extra Charges, No Misunderstandings and No Time Charges. We are professionals with Flat Rate Quotes Only, call for a flat rate quote today: 888-722-5774
What is your Insurance Policy?
Your goods are insured at a rate of $0.60 per pound. However, if you need a higher insurance rate, you are encouraged to let us know before you request a flat rate quote and we will be happy to provide the necessary coverage.