Customers may want to do their research when it comes to hiring a Professional Packing Company to complete jobs such as Packing Boxes and other packing-related services. By simply devoting a little bit of time to do that basic research, customers will avoid the headaches that may come later as a result of a terrible packing job performed by an amateurish packing company. At Packing Service, Inc., we take the utmost care with your items by wrapping and padding them in the best manner possible. Packing Service, Inc. is among the best Professional Packing Companies in the industry. The company only hires highly-trained Professional Packers and Movers. On top of that, it offers only flat rate quotes for the services that it provides. On our website, in the gallery section, there are pictures showing the level of care and professionalism that go into each packing job completed.
For Packing Boxes and other packing-related services, as a customer, you want the packing company that you hire to use the best packing materials available. At Packing Service, Inc., we only use top of the line packing materials, so customers do not have to worry about the quality of the service that they are receiving. Our company values convenience, and that's why we only provide flat rate quotes. The quotes that we provide include everything from our Professional Packers and Movers performing the services to all the materials used. The time that it takes to complete the job is included in the quote as well. As the customer, your satisfaction is our main priority, and you can rest assured that our quotes will not vary. The company adheres to a strict code of professionalism, and we value the customer.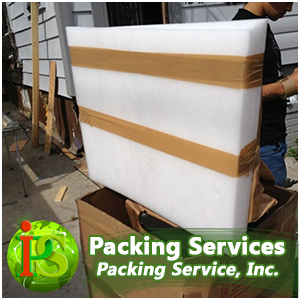 As a professional packing company, all jobs are performed on site. The same quality of service is provided nationwide. There is no variation in the quality of services that we offer. Our staff is extremely well-trained, very friendly, and uses the highest level of care when Packing Boxes and other house packing services. It's of the reasons that Packing Service, Inc. has become one of the most reputable packing companies in the industry. Our commitment to excellence cannot be rivaled in the packing industry. PSI's professional packers and movers have the highest level of training, and that is how the company is able to provide the quality of services that it provides. Our Packing Services are distinct and well-known. We take a lot of pride in the quality of service that we provide. Our company name means everything to us, and we will never tarnish our reputation as being among the best packing companies nationwide. To request a flat rate quote for all your packing and moving needs, email us at info@packingserviceinc.com or give us a call at (888) 722-5774.