From gift shop merchandise, towels, and bedding to heavy equipment such as dining furniture, patio furniture, and gym equipment – The Hotel and Hospitality Industry certainly has a long inventory list to maintain! When it comes to commercial shipping and handling, Hotels and Hospitality industries Nationwide entrust in Packing Service, Inc. to fulfill their On Demand Shipping requests.
Why? Because we come to YOU! That's right! At any location Nationwide, our team of professionals will arrive to service you! Regardless if you have one item or appliances that weigh over a ton – We'll get the job done – & better than the "other" guys!
When transporting commercial heavy items, that just can't fit into boxes, are fragile, and REALLY heavy – Packing Service, Inc. recommends Custom Wooden Crating. Our Pack and Crate team will package your items and build a 360 wooden box securing the item(s) into a condensed unit. Custom Wooden Crating is the absolute safest measure of transport for boxes, machinery, and equipment.
Packing Service, Inc. provides custom wooden crating on-site (at your location) for any item that you might require. We can will pack and crate than build a furniture crate, machine crate, a crate to hold boxes or a crate for industrial equipment regardless of size or weight. Once the client has established the size and weight of the given items, crates will be tailored to meet set specifications. Crates will then be loaded and shipped domestically or internationally to the established location in which our on-site services are needed. We are an extremely professional crating services provider. If you are uncertain if your item requires Crating Services, feel free to email us your request with a Photo of the item(s), dimensions, size, and weight to: info@packingserviceinc.com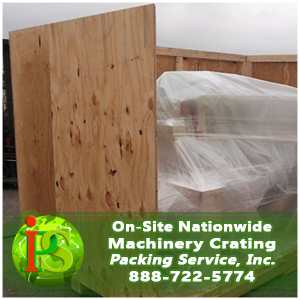 When you require the best custom wooden crating services in the business; call or email
Packing Service, Inc. for a flat rate quote that is guaranteed! (888) 722-5774  info@packingserviceinc.com
Save