If you need type of packing service, you can enlist the help of friends, family members, and relatives. However, it's best to hire a professional packing company. Packing Service, Inc. is that company. It is here to provide you with the best packing services possible. For all your needs involving Packing and Crating, crating and shipping, packing and shipping, loading and unloading, the services that the company provides are unparalleled. Our packers and movers work on jobs dealing with wooden crates and shipping container. Packing Service, Inc. has a strong commitment to professionalism and an absolute dedication to our customers. We also provide the highest level of service in the industry. We do not provide estimates since they're likely to change throughout the course of the move. We only provide flat rate quotes.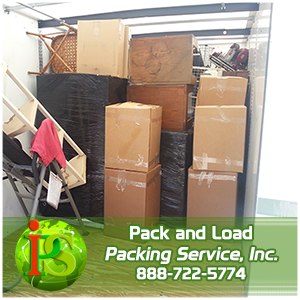 For our crating services, our packers and movers only work with wooden crates that are in excellent condition. If you need that they shrink wrap your items, the task will be completed in the most professional manner possible. Other moving and Packing Companies provide you with low estimates at the beginning. Those estimates wind up doubling or even tripling due to extra time charges, space to be used for your items. At Packing Service, Inc., we provide only flat rate quotes for all our services, whether the services involve or deal with shipping containers or wooden crates. When it comes to your moving, packing, and shipping needs, Packing Service, Inc. is your one stop shop for fast, efficient, and stress-free services. We offer all the services that you may need: packing and unpacking, loading and unloading, palletizing, crating, or shipping. Packing Service, Inc. has got you covered every step of the way. At our company, all services are provided under one umbrella.
We ask all the right questions up front and the quote we provide you with is the amount you will pay. We are professionals who do things right from the start. There are no hidden costs, extra charges, misunderstandings. We are proud of our reputation for excellence in providing services that deal with wooden crates, shrink wrap, and Shipping Containers. Our reputation is worth everything to us. With more than a dozen of years of experience and a proven track record of absolute professionalism, Packing Service, Inc. has established itself as an industry leader in the packing and moving industry. To request a flat rate quote for all your packing, moving, and shipping needs, email us at info@packingserviceinc.com or give us a call at (888) 722-5774.