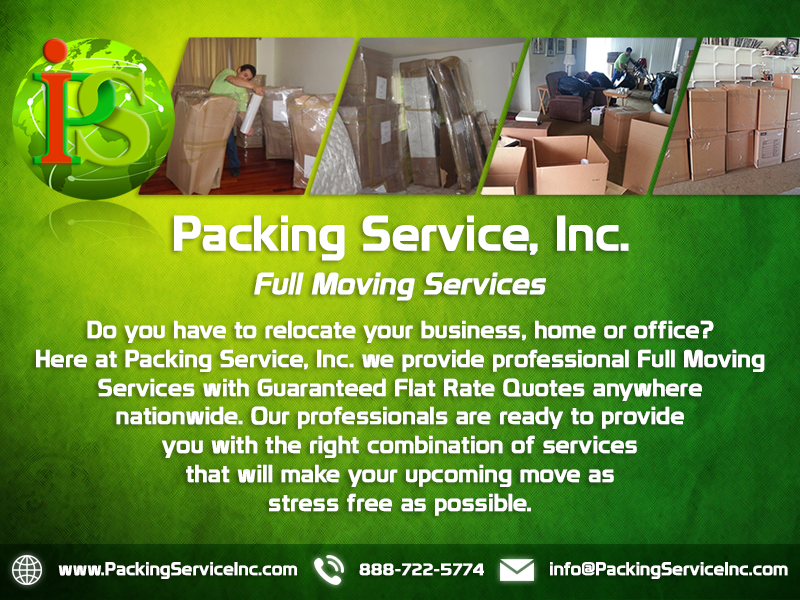 It's August and a lot of young adults are leaving home to move to college and university campuses to start a new phase in their academic lives. Those young people are already anxious about the process of having to leave home to start a new life. They shouldn't have to deal with the stress of having to move their belongings to campus. For these young people who lack the sort of worldly experience to deal effectively with those types life changes, moving can be a hassle. Although family, friends, and relatives often lend a helping hand, the entire process can still be overwhelming for everyone involved. To avoid this type of headache, a Professional Moving Company should be hired. The moving company will handle all the belongings and fragile items with the utmost care. The items will be divided in a way that makes the process as effective as possible. As a professional moving company, Packing Service, Inc. will make sure that items are packed and wrapped as neatly as possible. The company has a customer-first approach, and it shows in the quality of service that it has been providing for a very long time. We have been in business for more than a decade and the company is rated A+ on the better business bureau.
When it comes to moving, one may be able to handle every phase of the process. From acquiring packing supplies and materials to packing their possessions to renting a truck and loading it with all of their goods, it all can be done with the help of family and friends. While this is widely popular, it can take a great amount of time and energy, and this can easily be avoided by employing a Professional Moving Company. When taking their new high school graduates to college, parents often want to be involved in the entire moving process. They want to be part of the process. There is nothing wrong for parents to want to be part of the process. They can still accompany their young adult and help him or her move to campus. However, for packing and handling of items, this should be left to be done by Professional Movers.
August is also the month of summer graduation. Fresh college grads are moving to entirely new cities and towns. They have to move with all or most of their belongings, and this can be overwhelming even for the most organized of individuals. If college grads can afford to hire a professional moving company, they should do it. It will save him or her both time and money. In this global economy, American college graduates no longer limit themselves to working in the United States. Lots of them are moving to countries with emerging economies looking for opportunities. If moving locally is overwhelming, International Moving should be 10 times worse. For all Moving Services, Packing Services, Inc. provides faster quotes than any other packing company in the industry, and we only provide flat rate quotes. We always want to make the process as seamless as possible for customers wherever they are moving. To request a flat rate quote for all your moving needs, email us at info@packingserviceinc.com or give us a call at (888) 722-5774.