From spring cleaning, renovations, to relocations, moves, and more…. Packing Service, Inc. is the ONLY answer for Professional Moving and Shipping! With our reputable White Glove customer service (A+ Accreditation with Better Business Bureau), On Demand On Site Protocol, and No Hourly Charge policy – Why would you seek anyone else?
Save yourself the stress of working with inexperienced moving companies, save yourself time and money working with Packing Service, Inc. : the professionals who educate and care about the well being of your household or commercial items! Our mission is to meet the needs for domestic and international moving and shipping for individual or commercial industrial use.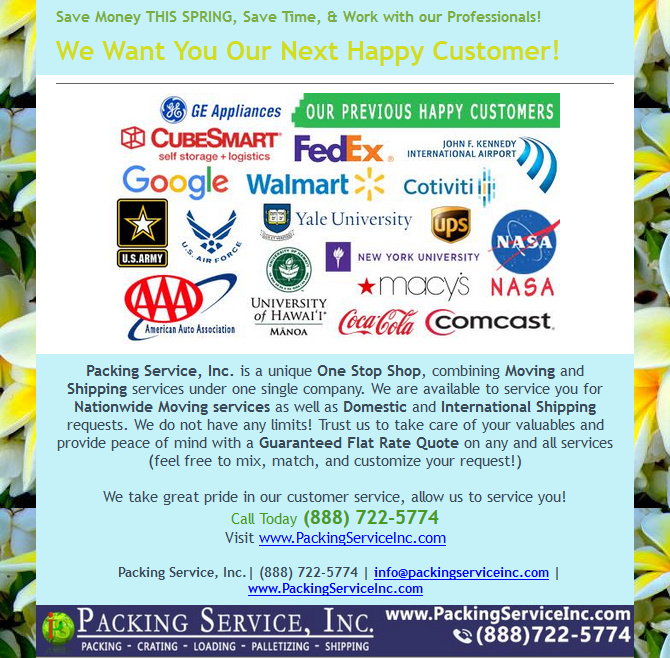 Whether you need Packing Services for shipping, Loading and Unloading Services, packing services for boxes or wrapping furniture, Packing Service, Inc. has you covered. We make sure to ask the right questions beforehand in order to provide our guaranteed flat rate quotes. Our professional moving and shipping staff will apply the proper packing method necessary to transport any and all belongings safely to meet both nationwide and worldwide needs.
Check our Pictures Gallery to see the way we provide one-of-a-kind white glove services for: Packing services for boxes/bins, Wrapping furniture, Loading and Unloading (Lumper service), Custom Crates and Palletizing. Call us now to get a Quick Guaranteed Flat Rate Quote with no hidden costs, no extra charges and no misunderstandings whatsoever and let us help you solve your needs in as little as 60 seconds 888-722-5774, or E-mail us your information with sizes, weight, list of items, zip code, name and your phone number to Info@PackingServiceInc.com
Click HERE to check out our available moving and shipping discounts!
Leave us a Review on Yelp and Receive 10% off your packing services or customized request!