Halloween is right around the corner. Thanksgiving is also a few weeks away. Businesses and companies will be in dire need of services such as packing and unpacking, loading and unloading, crating, moving, and palletizing. Those companies do not have to look any further. They have come to the right place. Packing Service, Inc.  We have been providing Packing Services, loading and unloading (Lumper) services for PODS containers and trucks, Custom Crating Services, and shrink wrapping/palletizing services for over a decade. Our attention to details has set us apart. We are one of the most trusted companies in the industry. We have an A+ customer satisfaction rating on the Better Business Bureau.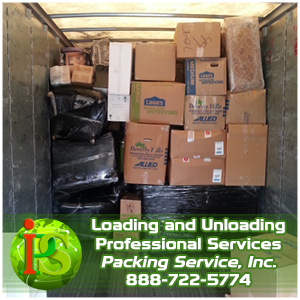 Whether your company or business needs services such as Packing Services for shipping, loading and unloading services, packing boxes or wrapping furniture, Packing Service, Inc. has got you covered. We always ask the right questions before providing customers with flat rate quotes. We have a professional staff that will apply the proper packing methods and follow the right procedures necessary to transport any and all of our customer's belongings safely to meet both nationwide and worldwide needs. Also, we have custom craters who can design custom wooden crates on-site to protect your oversized or fragile items during shipping. Custom wooden crates can be built for any of your items that may need to be crated. They are always tailored for the specific dimensions of your items.
As stated above, our company has been providing excellent services to happy customers since 2003. Our business model is based on honesty, excellence, and integrity. Our customers are very appreciative of our approach to doing business. That's how Packing Service, Inc. is able to remain on top for so long. Packing Service, Inc. is always experimenting with new approaches to providing services, and this way of doing things demands entirely new ways of thinking. We have always set out to reshape the packing and moving landscape, and we are always improving and innovating. For all types of packing and unpacking, loading and unloading, moving, crating, palletizing, and Shipping Services, email us at info@packingserviceinc.com or give us a call at (888) 722-5774.