Our mission at Packing Service, Inc. is to meet the needs for Domestic Moving Services and International Shipping services for individual and commercial industrial use. We care about our customers and business relationships – so much that we offer you a unique one stop shop, combining moving and shipping services under one single company – FOR ONE PRICE, NO HOURLY CHARGES, AND NO HASSLES! Trust us to take care of your valuables and provide peace of mind with our flat rate quotes on any and all of our on site services!
Moving Services are when you need to transport household goods in large quantities in the same truck/container from one location to any destination worldwide. We offer
ON SITE unpacking/packing, loading/unloading (into pods, containers, trailers, rental trucks, etc), and local moving services delivery options Nationwide.
Shipping Services are when you need to transport multiple or heavy boxes, select pieces of furniture, machinery or equipment palletized or in custom wooden crates from one location to any destination for Domestic and International Shipping. If you are shipping high-value items, commercial equipment or machinery, our skilled packers and craters will custom build wooden crates designed exactly for your items. Our made-to-Measure crates provide the best protection possible for all your domestic and international shipping services requests.
 It is our goal to provide exceptional service to all our customers nationwide. We will continue to grow and be recognized as the most professional provider and nationwide leader in on-site packing and unpacking, loading and unloading, crating, Palletizing and shipping services.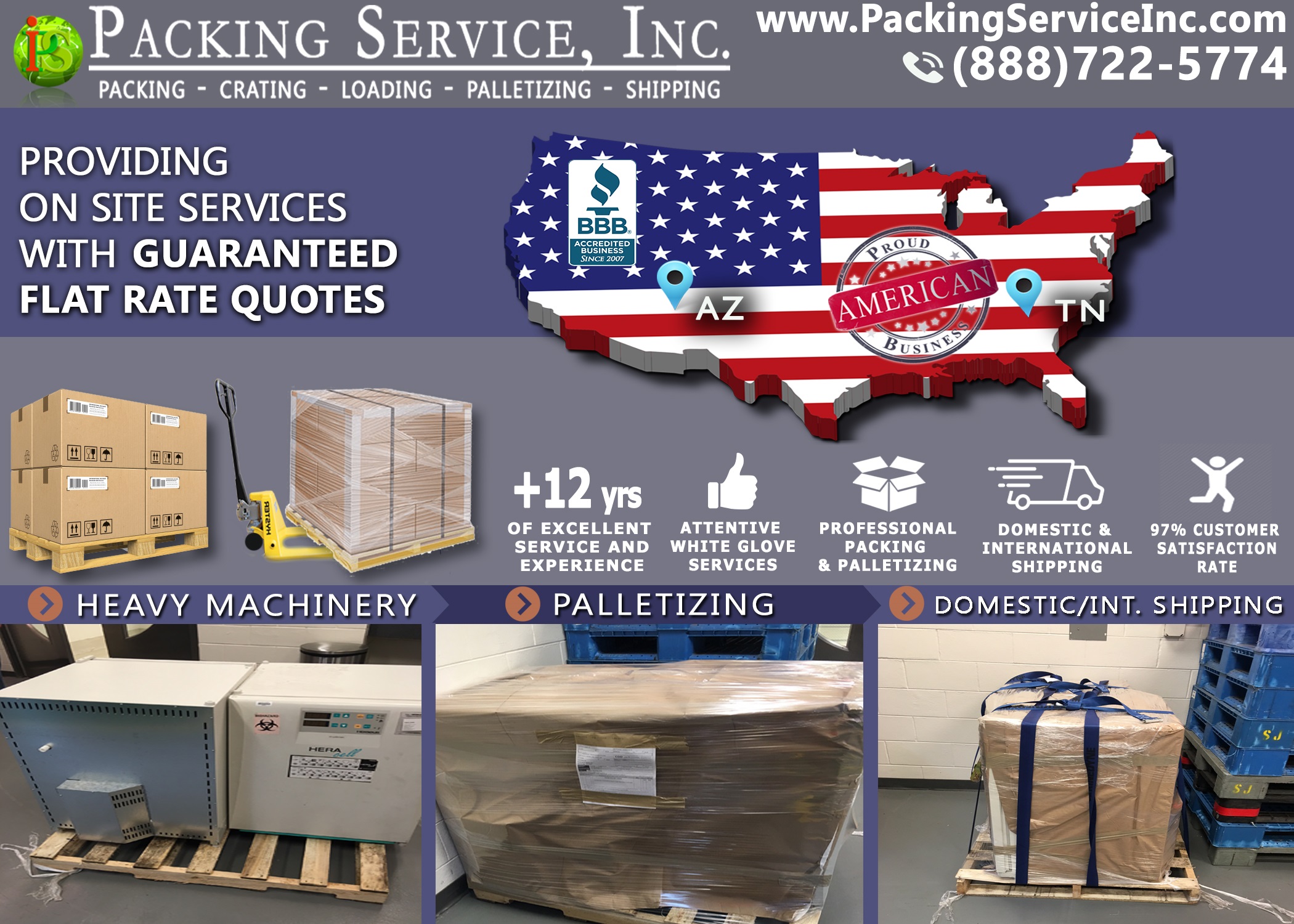 Check our Pictures Gallery to see the way we provide one-of-a-kind white glove services for: Packing boxes, Wrapping furniture, Loading and Unloading (Lumper service), Custom Crates and Palletizing. Call us now to get a Quick Guaranteed Flat Rate Quote with no hidden costs, no extra charges and no misunderstandings whatsoever and let us help you solve your needs in as little as 60 seconds 888-722-5774, or E-mail us your information with sizes, weight, list of items, zip code, name and your phone number to Info@PackingServiceInc.com
Save