Who Screams for Ice Cream?
Pretty much everyone does! Whether you are child awaiting your first Homemade Ice Cream Kit Maker or Dairy Queen awaiting the arrival of Blizzard creating super machines – Your tasty shipping request is one of anticipation!
Avoid sticky situations like merchandise theft, loss, and damage and hire a Long Distance Shipping company to handle your personal or commercial requests for Palletizing Machinery and industrial equipment!
Packing Service, Inc. provides long distance shipping solutions, including specializes in Shrink Wrap Palletizing, a more affordable long distance shipping solution for item(s) under 1000 lbs. Shrink Wrap Palletizing your belongings is among the safest and most secure ways to transport large or bulky items over long distance, because of the way they are handled. Packing Service, Inc's. shrink wrap palletizing service is among the best in the transport industry, only using quality grade shrink-wrap applied with the utmost care when gathering your belongings. We only use quality wooden pallets, built strong and for the purpose of long distance shipping – Domestic or International.
Palletizing machinery reduces shipping cost in comparison to other long distance shipping solutions. Palletizing machinery, equipment, boxes and bins ALL for ONE PRICE, NO HOURLY CHARGES, GUARANTEED!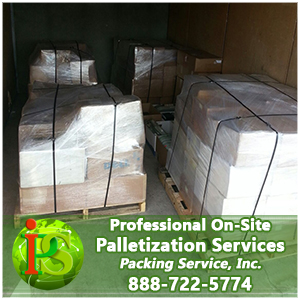 At Packing Service, Inc. our Shrink Wrap Palletizing as well as all Moving and Shipping Services there are No Hidden Costs, No Extra Charges, No Misunderstandings and No Time Charges. We are Professionals providing Flat Rate Quotes Only, call for a flat rate quote today: 888-722-5774.
Save