Packing Service, Inc. loves to provide reliable On Site Shipping Services for our local and nationwide residents as much as we enjoy servicing our corporate and commercial clients! You can utilize Shrink Wrapping and Palletizing Services, and even Custom Wooden Crating Services for your Domestic and International Shipping requests.
Packing Service, Inc. is the leading professional in domestic and international shipping services. We will only work with other professionals who are serious about offering only the best in shrink wrapping and palletizing services nationwide. Whether you require palletizing boxes, palletizing machinery, or palletizing furniture, our team of professionals can handle any job and any size item, in a fraction of the time it will take those other guys!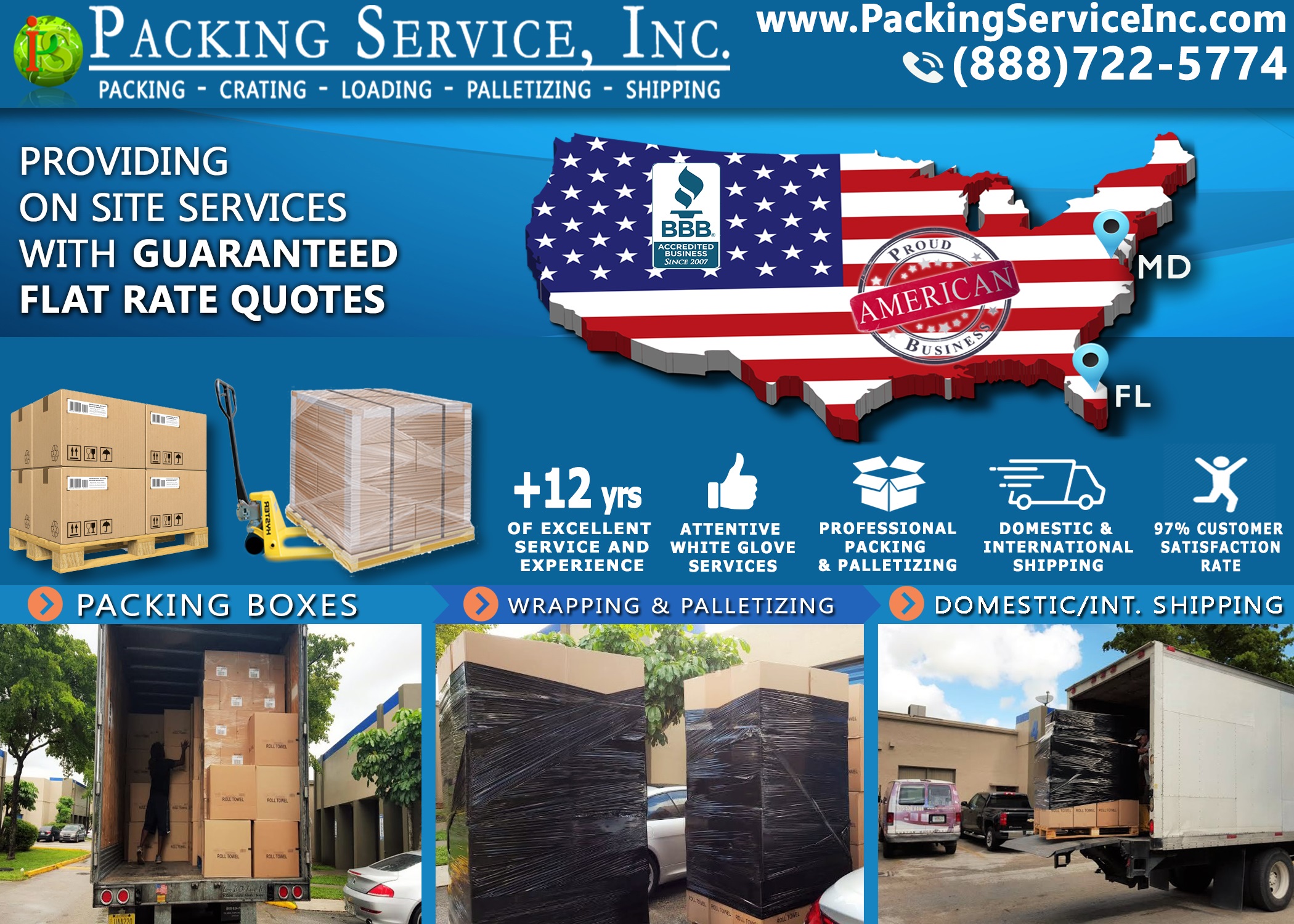 Our palletizing crews understand the importance of safety and take it upon ourselves to place your items on quality wooden pallets, securely wrapping item(s), strapping them down to the pallet and shrink-wrapping them directly to each pallet preparing them for domestic and international shipping. Each and every one of our palletizing crew must have experience providing on-site shrink-wrapping and palletizing services for at least one year before they can work with our company.
Packing Service, Inc. only uses quality wooden pallets, built strong and for the purpose of domestic and international shipping.  A pallet, often referred to as a "skid", is a flat wooden transporting structure that serves as a foundation for your items to be lifted by a forklift, pallet jack, front loader or other jacking device. Shrink Wrapping and Palletizing your belongings is among the safest and most secure ways to transport large or bulky items over long distance, because of the way they are handled. Packing Service, Inc.'s shrink-wrapping and palletizing service is among the best in the transport industry, only using quality grade shrink-wrap applied with the utmost care when gathering your belongings.
* We place the strongest and heaviest pieces on the bottom and go as high as we can (optimum height is 5-6 ft tall).
* We strap your items to the pallet (usually 40″x48″ or 40″x40″).
* Ensure the Shrink Wrap Services applied grabs all sides of the pallet.
* Cover the top of your pallet with shrink-wrap to keep your cargo clean and safe.
* 2 to 4 layers of shrink wrap are applied for added support and safety.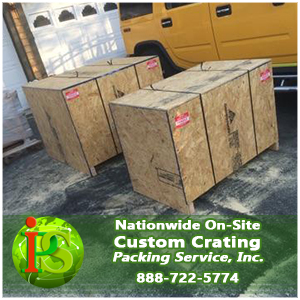 Packing Service, Inc. builds custom wooden boxes (wood crates) on-site (at your location) for any item that you might require. We can build Boxes, furniture, antiques, computers, electronics, artwork, portraits, fragile mirrors and sculptures, the list is endless!
The wooden boxes we design at Packing Service, Inc. are made of quality lumber and built strong to ensure the optimal level of protection for your valuables. Our custom wooden crating services professionals provide only the best quality wood for any type of job, and we only hire craters with no less than one year of experience providing custom wooden crating services.
We do not provide estimates, no hidden costs, no extra charges, no misunderstandings and no time charges at all. We only provide guaranteed flat rate quotes! Call or email PSI now for a flat rate quote:
888-722-5774 | Info@PackingServiceInc.Com
To see Pictures of Palletizing services click here on the link.