ATM Machines, refrigerators, karaoke machines, electronic kitchens. This is just some stuff that you might want shipped to wherever you want to go. If it's moving to a new home, a new location of a business, or a young start-up, Packing Service Inc. is the Shipping Company to call.  Being experts at shrink wrap palletizing, we make sure that we don't just send your items just any kind of way – they must be handled with care and precision. This love and care garnered our 97% Customer Satisfaction rating. As soon as we give you an excellent Flat Rate Quote, you can count on us from palletizing machinery to boxes and much more.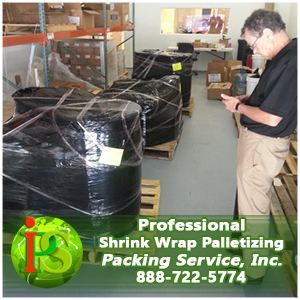 When we do our Shrink Wrap Palletizing, we tackle each items differently. Fine china might be stored in newspaper and then boxes before being wrapped, or we empty all furniture out before outright wrapping it. As an illustration, palletizing machinery means making sure that all sides are covered and grabbed to our premiere pallets. We might get more than two or four layers of the wrap, depending on the weight and height. Some of the stuff we wrapped include arcade machines, electronic kitchens, ice cream machines, scopes; the list is endless, and we still keep on going. As a shipping company, all items are shipped to your destined spot with no delay or misunderstanding. Do you wish to ship it inside the United States or internationally. This is just one of the imperative questions we ask you to provide you the best service and attention to the job. Having been our specialty for years, we have the experience to make sure that we are palletizing machinery, boxes, equipment, and so much else to their next stop.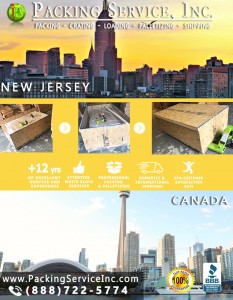 For years, our customers have raved about how our shrink wrap palletizing ensured that their stuff is delivered safe and sound with no trouble at all. A shipping company owes that to its consumers. We could go on about how awesome our services are, but that means nothing unless you give us a try today. Our shrink wrap palletizing won't let you down for your next move. You can see us palletizing machinery and much more on our social media, or just word of mouth from our many clients. Packing Service, Inc. is the best shipping company to count on.