You've spent your whole life building your business from the ground up. You attained amazing equipment that helped you and your teams get to where they are today. From machinery, furniture, electronics, and to all other industrial equipment, these are the first things on your mind when you plan to make big moves. No matter the situation, your stuff needs to be crated professionally and securely. Packing Service, Inc. is an awesome crating service spanning back to 2003, still an A+ business with the Better Business Bureau ever since. Our seasoned professionals provide on-site services to ensure that your cargo is prepared and seasoned for Domestic Shipping for the U.S. Let's talk about that.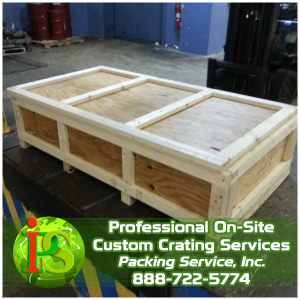 How tall is your equipment? How much does it weigh up to? Will it be shipped inside the country or abroad? These are imperative questions that we ask in order to make sure you are getting the best crating service imaginable. Our professionals arrive on-the-scene to create custom crates for each and every valuable you plan to ship. The on-site services are quick, safe, delicate and precise to any item we tackle. Here at Packing Service, Inc. we have crates specialized for antiques, furniture, IT equipment, industrial equipment and so much more. Our exceptional crates are used for both Domestic Shipping and International Shipping, chaperoning your stuff to the requested destination. And the best part? This is all provided by an excellent flat-rate quote. Our on-site services set us apart from all the other guys, who could easily waste your time with unsecure and phony crating. Our company is prideful as a crating service that leaves our customers satisfied and carefree, with an overall 97% customer satisfaction rating. With sure-fire Domestic Shipping, your equipment is safe with us.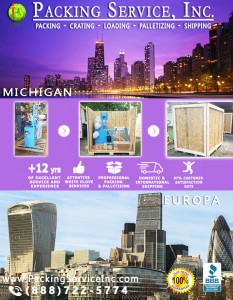 As a Crating Service, Our experience and professionalism has set us apart from the rest. Packing Service, Inc. is a crating company that works on-the-spot with on-site services, and domestic shipping that will get your equipment to their destination as soon as possible. You and your business deserve the best, top-of-the-line services that leave you with a smile on your face. Call us at (888) PACK-PSI (722-5774), or visit our website at https://www.packingserviceinc.com/ for more details. You won't be disappointed.