It's better to see some stuff up close and personal. If you want to move out, you want to make sure that your stuff is packed the right way. What if all of your fine china is placed right next to bulky computer equipment – in the same box no less?!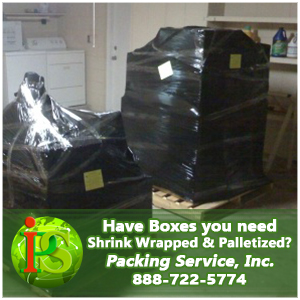 What if all of your stuff is teetering on the edge of a crate? The crate that you swore might've been high enough for your washing machine turns out to not even cover it halfway. However, what if you could see how each and every one of your items are packed, crated, and palletized by Professional Packers and Movers? Packing Service, Inc. Provides On-Site Services for all move-in needs. All you need is a Flat Rate Quote to get you started. Let's get better acquainted.   Having set up shop since 2003, we are a business all about moving the way our customers want to move. Our Professional Packers and Movers show up at your door with the right crates, wraps, and boxes for the job. The best in the biz, as well as the most passionate, they go about each of your equipment in different and unique ways. We put layers upon layers of shrink wrap upon large items such as household machinery, business equipment, construction machinery – the list goes on.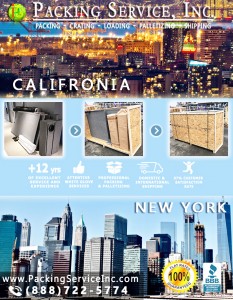 What Packing Service, Inc. needs to know is the weight, height, and where you're going. Get ready to sign a contract that makes sure that your stuff is delivered on time and to the right location. And you get the front row to it all. With On-Site Services, you can guide our staff to what should be crated first and foremost, if you want to keep some items, and much more. You are the boss of this move. When you decide to work with us, we'll give you one of our awesome Flat Rate Quotes to begin working with you. We want you to be comfortable with this move; no need for secret fees of mistakes. Whatever you need done is just at click away. Packing Service, Inc. ins the only Packing company that allows On-Site Services for you. You control your next move-in. No item damage, stolen or lost when you count on us. Our Professional Packers and Movers want to work with you to make the next job as awesome as possible. Get some Flat Rate Quotes today.