How am I going to move out? What do I need to take with me? How much is it going to be? Which Palletizing Service can I rely on? How far am I even going? These are some good questions that come to mind when you plan your next big move.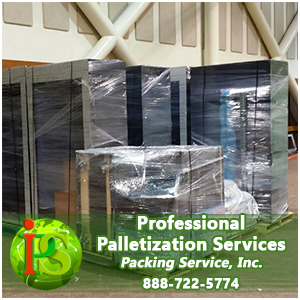 When you want to Move out, You can always rely on Packing Service Inc. to have your back for Domestic and International  Shipping. We pride ourselves in being a "Jack of all trades" in the moving industry, as we attain our 97% Customer Satisfaction Rating since 2003. Since then, we have been Shipping Equipment for thousands of clients, never stopping since. First and foremost, Packing Service, Inc. is the only Palletizing Service that makes sure that your equipment is secure and ready for their move. We have systems in place that tackles different products such as machinery, fine china, and art displays in the most delicate matter possible. When you rely on us, we will bring your belongings both Domestic and International with our outstanding Flat Rate Quotes.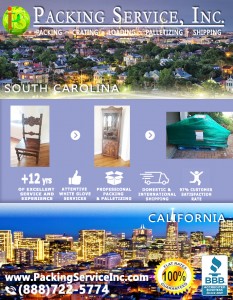 Not only do you get an expert Palletizing Service that is wrapping your items in premium shrink wrap that will shield them from whatever damage imaginable, but you also got a company that values the honesty of the consumer.  Whether it be Shipping Equipment, luggage, and so much more, Packing Service, Inc. has got your back when it comes to your next move.You got a lot of questions for your next move, and we're the right company to answer them. The best Palletizing Service in the business, ensuring that every single one of our customer's items are shipped safe and sound, we will pack, load, ship, and crate your belongings with awesome flat rate quotes. Shipping Equipment has never been this easy when you work with us. For Domestic and International Shipping, count on Packing Service, Inc.