When you move out, you might want to take EVERYTHING with you. Those pictures of grandma and the kids? Check. The employee-of-the-month plaques? Yup. Ice Cream Machines? Telescopes? Computers and tech? You Name it. We haven't even talked about the furniture. How are you going to move all of this stuff out? Who are you going to count on? You need to rely on the best moving company in the business, supporting International Shipping for all of your stuff. You might want to think of crating equipment and getting the best wooden crates for the job.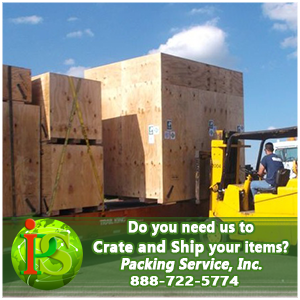 Here at Packing Service, Inc. we're here for the job. Want to make sure that all of your stuff is safe and sound from your door to the next? Count on our professionals to crate your material on site based on each item's height, width, and weight. You don't have to worry about the whether or not your stuff will fit each crate or container – we believe that if you think it, we can ship it! We want to work with you to make sure that your next move is as fun and easy as possible. Before we get started, we must know how far of a trip your stuff is going on – international or domestic?  If international, then we will heat-treat our Wooden Crates so that your cargo is good for travel. No matter the destination, we guarantee that you'll receive a flat rate quote when you decide to move with us.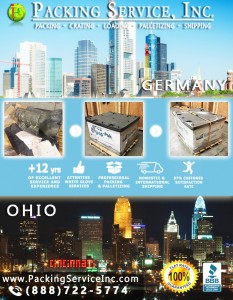 It's the least we can do for this big move out. Our portfolio consists of stuff such as ATM machines, industrial equipment, tall furniture, kitchen appliances, art pieces – the list goes on and on. If you're the boss of your own business, then we are Crating Equipment that we know matters to your staff and work. With Packing Service, Inc. on the scene, there is no one better to crate your belongings for International Shipping. Moreover, Crating with us means a safe, professional, and exciting experience that makes your next move out a whole lot easier. We are eager to share with you how, with our Wooden Crates, we have the ability to pack some amazing stuff around the world. It's always an adventure when we work with you, as our packers and movers learn new ways to tackle certain items pint-size and ginormous. Crating Equipment has been our specialty ever since 2003, and that has never stopped since. Give us a call today at to find out more. International Shipping is just a click away.