So many options! How do I know which one is the best for my big Move? I just need something Shipped and Crated, how is this company good for that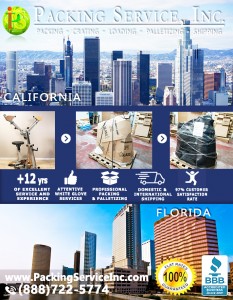 ?
Listen to this:
Usually the numbers, reviews and accreditation's are the same all around. What you need to do is look at who they are as a company.
What does that mean?
When you called for lets say Crating and Packing, was the representative encouraging and answer your questions properly.
Were you offered a reasonable and competitive moving price? When it comes to Crating, Palletizing, Packing, Shipping you want to get a flat rate quote from the Moving Company. Estimates usually go over.
If you requested the service of Professional Packing/Crating or Palletizing/Unloading, did the Moving Company include the cost of the packing supplies into your move?
You will get a feel of who the company is when you starting asking these questions. And ultimately it is you the customer to decide which company to use. Remember to keep asking and see how they respond. That way, whatever it is you need: Crating, Packing, Moving, Loading, you will feel good about the decision you made.