Are you about to send a gift to your loved one abroad but don't know how to package it? Come on board as we take you through easy steps on how to prepare and ship your gifts to your friends and family abroad.
Packaging your gifts is very important, especially when you are shipping it abroad. The rigorous handling stages, transport vehicles, and conveyor belts will test your package and ruin it if you don't take appropriate measures to see that it is adequately packed.
In this educative piece, we will take you through a step-by-step process on how to pack and ship your gift abroad without any hassle. Let's get down to business!
Get a New Box for Your Gift
Since you are sending your gift abroad and not across the state, you should get an original gift box for the job. Gift-wrapping materials may not be appropriate as you need to protect the gift from the rigorous processes, transfers, and customs inspection before it gets to your desired destination.
They are special wooden boxes, wooden crates, or custom crates design for this purpose. You could wrap your gifts with wraps before placing them inside the box.
Insulate the Box
To protect your gift from rolling around inside the box when on transit, you should insulate the box to prevent your gift from the inner walls of the box.
You could use old newspapers, packaging chips, or old fabrics to fill up the spaces around the main item and keep it stable throughout your time on transit. Do this for your wooden boxes, paper boxes, wooden crates, and custom crates.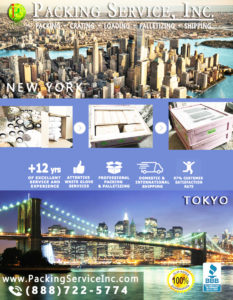 Wrap All Items Separately
If you are sending more than one item, you should wrap each item individually before placing them on the box. For precious items, you can introduce an extra layer of protection by using two boxes.
Place the item on the first box and then place the box inside another stronger, outer box for maximum protection.
Strengthen Your Old Box
Although it is strongly advised not to use old or aging boxes, if you have no other option, then you can go ahead and reinforce your boxes before you ship it abroad. You can make use of packaging tapes to strengthen the flaps and hinges. Thoroughly inspect the edges to make sure it is strong enough to hold your item.
Attach Copies of Your Declaration Form
Remember to place copies of the customs documents inside the box before you seal it off. Your shipping company should provide you the shipping paperwork which you should attach to your box.
If you are reusing an old box, always remember to get rid of any bar codes or labels that could confuse the shipping staffs when they check-in your box.
Tracking Your Package
After you must have packed and shipped your package abroad, you will have to track its progress by consulting the shipping company at regular intervals.
Your preferred shipping agency should be able to provide you with real-time information on the progress of your item until it gets to your preferred destination.
Final Words
Get yourself a reliable shipping agency to handle the packaging of your gift items today and enjoy express delivery of your items.
A professional shipping agency would ensure your items is packed using the right packing materials, wooden boxes, wooden crates, and custom crates for maximum protection.