Are you planning on kick-starting your shipping business and want to avoid making silly mistakes that may kill your dream even be it starts?
To help you have great start in your business, here are some of the factors you must thoughtfully consider while you ship your items abroad.
  1. Custom Requirements
This is the very first thing you must thoughtfully consider before you develop any plans of shipping goods to another country. The custom regulation and requirements differ in countries and thus, you have to carry out good research on the custom requirements of your destination country.
It's important you do this because your goods will be scrutinized by the custom department of your destination country and if you are found wanting, your goods will be seized.
You also need to fill out paperwork with the custom department of your home country before you ship your items abroad. Go over the custom requirements to ensure you stick to them.
2. Speed of Delivery
As an agent shipping a product abroad, your product's delivery time is very important especially if you have customers you must satisfy and a competitor to beat. Before you check out the flat rate pallet shipping requirements, make sure your desired shipping company understands the need to keep to timely delivery.
Most shipping agents will rather confuse you with flat rate pallet shipping requirements than let you into the delivery date you should expect your products.
While you have to prepare your mind for delays such as unforeseen shipping issues, custom clearance and so on, you must go for a shipping company that would get your goods to your customers on time. After that you can negotiate the Flat Rate Pallet Shipping requirements.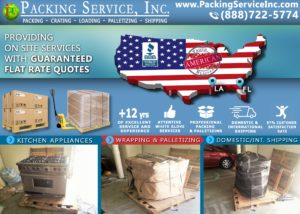 3. Insurance Coverage
Shipping goods abroad come with unforeseen risks that may cause you to lose your goods. Thus, it's important that the company that would Pack and Ship your items have issurance coverage. So you don't lose your investment in cases of misplacement or damages associated with the shipping process.
4. Cost of Shipping Your Items
Another factor that you must consider before hiring a professional shipping company is the cost of shipping your items abroad. Before you settle for a professional shipping company, you must carry out a detailed market survey to find out the charges, shipping tariffs and other hidden charges like product taxes.
From here you can compare and make your choice based on the market standings on ground.
It's also important that you find out the average shipping rates to your destination country before you pick a Professional Shipping Company as different countries have different shipping tariff rates.
5. Packaging Materials
Your choice of shipping service provider should be able to pack and ship your items for you. Thus, they are in the better position to suggest the packaging materials to adequately pack and ship your products.
However, you should be involved in the process especially when you are dealing with perishable goods so you will be involved in the entire process without losing your goods to damages as a result of carelessness.
Final Words
The following tips will help you ship your items abroad with little or no stress. It's important you work with professional shipping agents to help you handle your investments.