Are you shipping huge items and have no idea how to get them from point "A" to point "B"? Don't worry, we do. The professionals of Packing Service, Inc specialize in packing, specialty crating, and Shipping Services. We can handle items of all sizes, any weight, and any shape. We can crate and ship over sized individual items, such as armoires and grandfather clocks, as well as fine art, antiques, equipment, and high-tech electronics.
Packing Service, Inc. offers professional crating services on-site nationwide. If you have expensive items of any size and shape that demand the highest level of protection, especially when shipping long distance or internationally, than Packing Service, Inc has the professional services and expertise to ensure your items are protected every step of the way.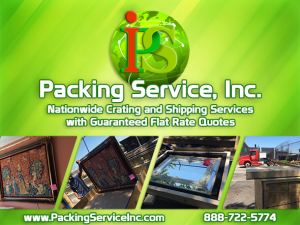 Since opening for business in 2003, Packing Service, Inc. has an impressive 97% customer satisfaction rate and is a proud member of the Better Business Bureau 8 years in a row. We are committed to our customers and providing the best packing and crating services nationwide. No item is too big or too small for the professionals at Packing Service, Inc. Our teams of workers have no less than one year of experience providing services and always use the best quality materials for the job. Whether you require domestic or international Crating Services, Packing Service, Inc. has the necessary materials for the job. If you know your items will eventually ship internationally than always make sure you inform those doing the crating of this fact. Whenever shipping crates internationally the wood used must be heat treated or you will wind up costing yourself more time, money and unnecessary aggravation.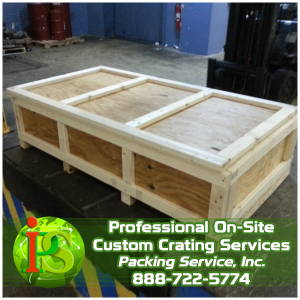 With our Packing and Crating services, and our preferred network of specialized carriers, we can ensure the safety and timely delivery of your item shipments every time. Our company's # 1 priority is "customer satisfaction". We specialize in providing a complete range of custom packing services specifically designed to meet the special needs of each of our customers. At Packing Service, Inc. we pride ourselves on honesty, reliability and professionalism. We will never provide low ball estimates that change; we provide only guaranteed flat rate quotes in black and white with no hidden fees, no extra charges and no misunderstandings.