Packing Service, Inc. is your nationwide one stop shop for all Moving and Shipping Services and we've been in the business since 2003. Whether you are relocating your business, home, or office we have the services and professionals to get the job done in an efficient and timely manner. Our teams of veteran Packers and Loaders have no less then 1 year of experience in the Moving and Shipping Services industry and are ready to put their knowledge to use in helping our customers' relocation efforts.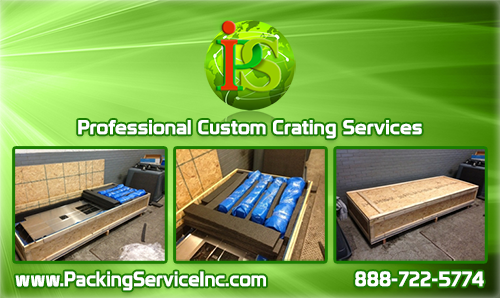 When you hire us to perform any of our Moving and Shipping Services we do not provide you with an "estimate" like most of the other companies do. We provide our customers with Guaranteed Flat Rate Quotes that will not change. So from beginning to end our customers know exactly the amount they will pay with no surprises, hassle, or misunderstandings – only professional and reliable services you can count on anywhere nationwide.
We provide nationwide Moving solutions and worldwide Shipping Services from the United States. Hire us to Crate and Ship your items from the United States to any port in the world. If you need to Ship fragile artwork, heavy machinery, delicate equipment, or any other valuable items, we can provide you with our professional Custom Crating Services.
Our Custom Crating Services are performed on-site anywhere nationwide. When you hire us to Crate and Ship your items, our professionals will go to your location and build Wooden Boxes around your valuables to protect them during transit. Our Wooden Crates are made with special Heat Treated Wood designed specifically for international Shipping. If you would like to see pictures of our professional Custom Crating Services, or any of our other services please visit our website at www.PackingServiceInc.com. We have been an A+ rated, Better Business Bureau accredited company since 2007 with a 97% customer satisfaction rate and are dedicated to making our customers' relocation efforts as stress free as possible.