Here at Packing Service, Inc we do more than just build crates. We offer On-site Crating, with experienced technicians who will professionally pack and crate your item at your facility. We arrive with trucks that are fully-equipped with all the tools required to complete the job. For the most professional crating services by any Crating Company in the industry; choose Packing Service, Inc. and we will exceed all of your expectations. Our professional team of craters will arrive onsite and build custom wooden boxes around your items right before your very eyes. Whether we are preparing custom wooden boxes for industrial equipment, machinery or furniture; PSI will accomplish this task in a fraction of the time it will take those other guys. Packing Service, Inc also helps reduce the risk of cargo loss by consolidating many items into larger custom wooden crates. For example, multi-component equipment or integrated machine parts may be better served traveling in one large box as opposed to many smaller pieces or cartons.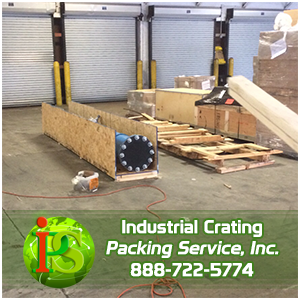 We are accomplished in the handling and preparation of extremely heavy duty equipment. We have over 13 years of experience designing and building Custom Wooden Crates. You can trust that your items will arrive to its destination safely and in a timely manner. Always specify if you require international or domestic crating as the wood used will have to be heat treated for international shipping. Whether you are shipping industrial equipment, machinery, furniture or boxes; the professionals at PSI will build a custom wooden crate designed specifically for your items. The wooden boxes we design are made of quality wood and built strong to ensure the most optimal level of protection for your valuables. If you have antique furniture that needs to be shipped domestic or international; our furniture crates are perfectly suited for your needs. Whether you require a machine crate or a furniture crate, PSI's crating and Shipping Services will always be provided at one guaranteed flat rate quote.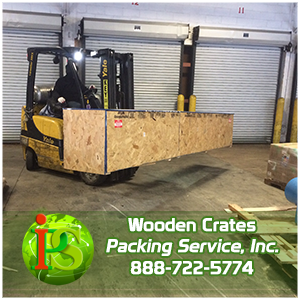 Packing Service, Inc is a 100% professional crating company that opened in 2003 and always provides only the best in crating services at one guaranteed flat rate quote nationwide. PSI builds custom wooden boxes (wood crates) onsite (at your location) for any item that you might require. We can build a furniture crate, a machine crate, a crate for boxes or a crate for industrial equipment regardless of size or weight. All we will need from you is the size and weight of the given items, whether it will be shipped domestic or international and the location in which our onsite services are needed. PSI is an extremely professional crating company that has been providing Crating Services for over 11 years with a 97% customer satisfaction rate. We are proud members of the Better Business Bureau rated A+ consistently since 2007. Our professional craters provide only the best crating services nationwide using only the best quality wood for the job. PSI being a professional crating company only hires professionals with no less than one year of experience providing crating services.