Any move can be a stressful task, full of its fair share of unwelcomed surprises, but what will not come as a surprise to you is the total amount you see on your moving invoice if you hire us. Here at Packing Service, Inc. we don't provide "estimates" that acquire additional fees and costs before the move is complete, we provide Guaranteed Flat Rate Quotes for any of our professional Moving and Shipping Services.
When you call us to use our nationwide Moving and Shipping Services, one of our highly skilled specialists will provide you with a Guaranteed Flat Rate Quote and based on your needs, the quote given will cover the cost of your household, business, or office relocation, including the services we'll provide to complete the job. We will never give you low ball estimates that change; we provide our clients with only Guaranteed Flat Rate Quotes in black and white with no hidden fees, no extra charges and no misunderstandings.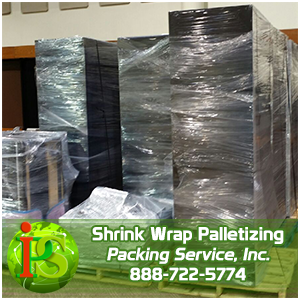 Packing Service, Inc. uniquely combines the Moving and Shipping industry under one company making us your one stop shop for all Packing, Loading, Shrink Wrap Palletizing, Custom Crating, and Shipping Services you could require for any relocation project. We provide our services to both, commercial and residential clients anywhere nationwide.
If you have delicate equipment, fragile artwork, industrial machinery, or valuable antiques and you want the highest level of protection for these items before shipping them locally, domestically, or internationally then our team of professional Packers and Loaders will build Custom Wooden Crates for your items. When we send our guys to your location to build Wooden Crates for your valuables they make sure to contruct them to the specific dimensions of your items to prepare them for transit. There are some instances where crating isn't necessary and instead, our professionals can provide you with our Shrink Wrap Palletizing services.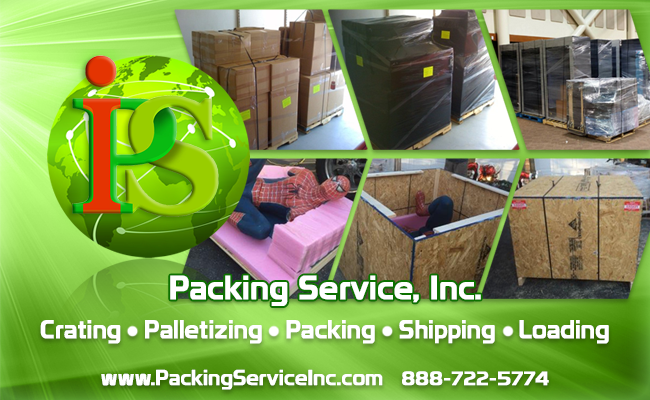 Shrink Wrap Palletizing services are comprised of placing your items on strong wooden pallets, wrapping them, strapping them down, shrink wrapping them and preparing them for either domestic or international shipping. Our professional employees use only the best packing materials and always focus on providing the most optimal customer service on each service we provide.
At Packing Service, Inc. our number 1 priority is the safety and security of your items as well as making you happy with the professional white glove services we provide. We pride ourselves on honesty, reliability and professionalism in the field and doing the best possible job every time.