1. Start packing for the move as soon as possible. 
As soon as you know that you're gonna move you should start packing up. Waiting until the last minute to sort slows the process. Save time, money and anxiety by being prepared.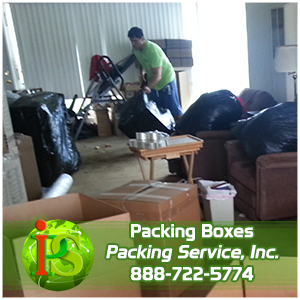 2. Get a quote from a well established moving company.
It's important that the company you choose has a good customer satisfaction rate and has been in business for at least a few years. The pros at
Packing Service Inc.
can give you a flat rate quote in minutes. Check with your movers about their policies, you may want them to pack and insure high value items.
3. Figure out what you're gonna take and what you're gonna leave.
Go through and pull stuff that you can trash, give away or donate. Remove these items before the packers arrive, or gather it all into one pile and clearly mark it "DO NOT MOVE!"
4. Do not pack perishables, chemicals, explosives, fireworks, plants, animals, etc…
Moving companies usually do not transport plants, flammables and hazardous liquids or materials of any kind. Be sure to inquire with your movers about what they will not transport so that you don't have the packers pack it.
5. Pack your personal items, and let us pack everything else for you.
These normally include medicines/toiletries, enough clothing for the move duration, electronics/chargers/books, work stuff, jewelry and hazardous items that packers and movers won't touch. Pack these things ahead of time, or clearly mark them. It's important that your
moving company
has the skills to move all your furniture, art, appliances, and personal effects safely. This is usually done with pallets or
custom crates
; find out which one of these services is best for you.
6. Make sure our moving pros know the inventory and which items they're taking.
Have all your master bathroom items in your master bathroom, for example, and use signs to mark every room so the packers can mark boxes accordingly. If a large item will switch rooms in the new house, just mark it with its own label.
7. Keep all entryways and halls clear so the pros can efficiently pack your belongings.
8. For any items you pack, use the right boxes and packing tape.
Our packing and shipping team will use the best materials for the job, but for any items you pack, use the right boxes and packing tape.You don't want your boxes falling apart and your important personal effects and documents being scattered everywhere. Investing in quality materials will make a big difference for your move.
——————————————————————————————————-
The pros at Packing Service Inc. have been helping customers like you with packing and moving domestically and internationally for more than 11 years. In that time they have achieved a 97% customer satisfaction rate and have an A+ rating from the Better Business Bureau. PSI offers only guaranteed flat rate quotes and superior professional moving services.
www.PackingServiceInc.com