As the New Year approaches, there are countless things that we are all uncertain of.  No one can foresee what will happen in 2017; however, there is one thing Packing Service, Inc. can guarantee you will always be the same. We will always provide our customers with great quality service! We will uphold our great service, as we have in the past, by only hiring professionals, providing guaranteed flat rate quotes and safely protecting your items with our custom Crating Services.
Over the past 13 years, Packing Service, Inc. has only hired professional staffing. In doing so, we have greatly increased the convenience, security and safety of our clientele's belongings to the highest standards. Our high level of commitment to personalized customer care is what sets us apart from the rest.  Regardless of whether you need Packing Services, crating services, Shipping Services or another service that we provide, you can be worry free, knowing that our teams of craters, packers, shippers, movers and loaders all have a minimum of 1-year experience in the service they will provide.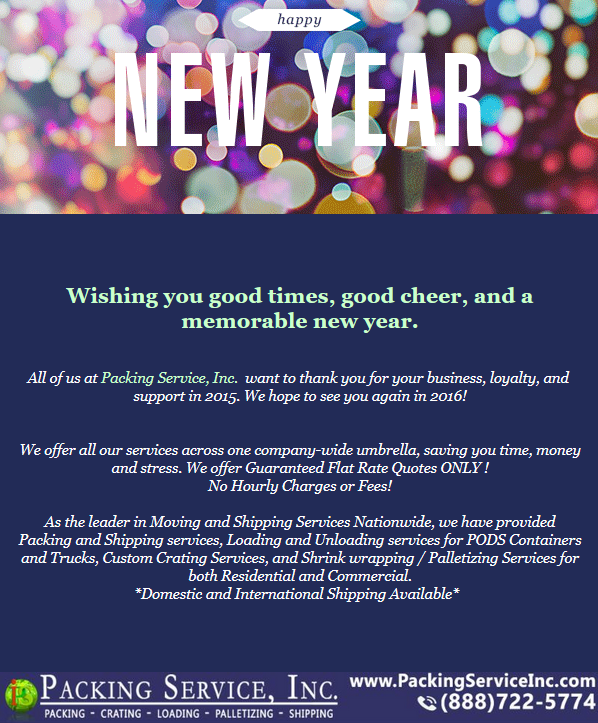 In the New Year, Packing Service, Inc. will also continue to be a company that provides our customers guaranteed flat rate quotes. We do not provide estimates that fluctuate with added service, so there are no hidden costs, no extra charges and no misunderstandings. We provide only guaranteed flat rate quotes which promises exceptional service from start to finish. Unlike many other moving companies, Packing Service, Inc.  will not charge for time or travel. You, as a customer, will enjoy added peace of mind, knowing that you are paying a guaranteed price for professional packing services, moving services or shipping services.  If you want a stress-free, competitive Flat Rate Quote for your packing services, crating services, loading services, moving services or shipping services nationwide; you should contact Packing Service, Inc. for all of your packing and shipping service requirements.
As a full-service moving and shipping company, we are a one-stop shop, providing not only one service but several, including packing services, shipping services, crating services, loading services and moving services. We will continue to build custom wooden crates on-site for any item that you might require. We can build furniture crates, machine crates, crates for boxes or a crate for industrial equipment regardless of size or weight.
Happy New Year from Packing Service, Inc!
Save
Save